By: Renee Robins*

Recent Posts
-------------------
Oct 30, 2009
__________________________________________________
Please refresh your page...>
Rabies Clinic;
Surgery Day;
Duckie;
Kind Soul;
River Cats;
Clothes Line?;
Thank You!;
Heartbroken;
Heartbroken Update;
Web and Blog Information;
Rabies Clinic on Sunday;
Sunday Success;
River Cats;
The Puppies Have Arrived;
Incoming;
Pup Update;
Teckel;
Care Bear Update;
Blog Comments;
River Cats Update;
Happy Halloween;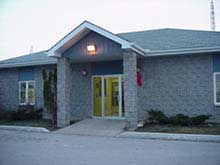 Archives
-------------------
Sep '09 Blog;
Aug '09 Blog;
Jul '09 Blog;
Jun '09 Blog;
May '09 Blog;
Apr '09 Blog;
Mar '09 Blog;
Feb '09 Blog;
Jan '09 Blog;
Dec '08 Blog
Nov '08 Blog;
Oct '08 Blog;
Sep '08 Blog;
Aug '08 Blog;
Jul '08 Blog;
Jun '08 Blog;
May '08 Blog;
Apr '08 Blog;
Mar '08 Blog;
Feb '08 Blog;
Jan '08 Blog;
Dec '07 Blog;
Nov '07 Blog;
Oct '07 Blog
Sep '07 Blog;
Aug '07 Blog;
Jul '07 Blog;
Jun '07 Blog;
May '07 Blog;
Apr '07 Blog;
Mar '07 Blog;
Feb '07 Blog;
Jan '07 Blog;
Dec '06 Blog;
Nov '06 Blog;
Oct '06 Blog;
Sep '06 Blog;
Aug '06 Blog;
Jul '06 Blog
Jun '06 Blog;
May '06 Blog;
Apr '06 Blog;
Mar '06 Blog;
Feb '06 Blog

email your comments to:
osas@bmts.com

Keep up-to-date
with our schedule.
Happy Halloween
As soon as I said it, I wondered if I would regret it. Live on radio this morning, as I showcased a black cat (who I will watch very closely for the next week if anyone asks about Tammy) I mentioned how I would be one of those people who would love to adopt a black cat on Halloween, as it goes with the theme, and would love them forever and remember that time. I mentioned how I am careful with each and every adoption, all year, and that this one would be the same.
I made mention of "do people really still do those things?" and meant to say one thing, and then noted that it may have sounded like something different. If anyone knows how terrible people can be to animals it is me and I wouldn't want anyone to think that I had made light of the situation. I know how mean and cruel people can be and especially during this time of the year.
Later around 4 pm, a call came in to ask that we pick up a dog at the cemetery. I was very concerned and pretty sure this was a sick joke. I was sure there would be no dog, no person, but rather a trip to the cemetery on devil's night. However, upon arriving I found a tiny little pup - is anyone missing a ten week old Shepherd mix?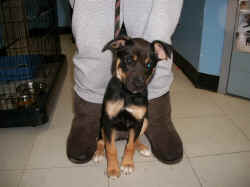 The reality is someone dumped this dog and found it pretty funny to do so in the cemetery tonight, which is not funny one single bit. It's not funny to throw your pup out like trash. What is scary, is that someone would find it funny. I am however, relieved that the pup is with me, and not with such a person, and relieved it is alive and well - very relieved.
As we enjoy the celebrations please remember...
Candy is not for pets, it makes them very ill, and some, like chocolate is toxic.

Candy wrappers smell like candy, and may be eaten too, remember to put them away properly too.

Jack-o-lanterns can cause fire to whiskers and tails very quickly.

Pets don't like to be dressed up, unless they are use to it. Use caution.

Please remember (this dog catcher begs you) your door will be open and closing - please contain your pets, and be sure they are wearing id just incase!

Masks and costumes are scary, and is new company, keep pets contained.

Remember tying them, or kenneling them outside may not keep them safe from all dangers on these nights from monsters [the two-legged kind].
I hope you and your family have a happy and safe Halloween!
------------------------------------------------------------------

|

Share your comments

with us.
Oct 29, 2009
__________________________________________________
River Cats Update
It's bad enough that the cats are dumped by the river. It's worse that despite warnings, signs being posted and City By-Laws being broken that someone continues to feed the cats [despite our appeals to the contrary].
All efforts spent to gather and rehome them takes so much longer, but I don't let that get me down. I recognize it is out of kindness they feed them, and they really just don't understand that they are not helping the cats. They don't trust that the cats will be safe, and they worry. However, when they kick my trap shut ten times, I get annoyed.
I spend hours setting, baiting, and rechecking, all for nothing. When I return to see five cats wandering, and the cages closed and the food inside - I get angry. But, I will get over it.
However, today they crossed the line. I set the trap at 9:30 am and I return at 11:20 am to find it closed. I reset it and then I return at 2 pm to find it is gone. Not only is the trap gone, but this same someone chopped down the tree it was chained to. This is now turning into a City of Owen Sound By-Law problem.
This was planned and deliberate. Someone does not want us trapping the cats and they have made this quite clear. They really think they can help the cats by doing this.
I have spent many months gathering, time to set and check traps, cat food and patience in an attempt to gather the River Cats. The ones that have been gathered are now altered, vaccinated and rehomed - all at my expense. This is my job for the City and I take this very seriously. I have made a pledge to the River Cats and will continue to try to get them to safety before winter sets in.
Fortunately I don't give up easily. But, now this has increased my desire to catch these people. I am not playing nice anymore. I will now be catching more than cats.
------------------------------------------------------------------

|

Share your comments

with us.
Oct 28, 2009
__________________________________________________
Blog Comment
Yesterday, I received two great comments on the 'Teckel' blog. As you will be able to read from the comments below, one of the emails was from the new mother of Chevy and the other is from one of my long time blog readers.
I am so happy to be able to say that Chevy's new mom is quite happy to have him and can't wait until he really settles in. Here, you read the email:
Bon jour mes amies. This is Chevy checking in. My English skills are improving as I forget my French. I don't really know where I am because I curled up on the quilt and slept most of the way here----but I do know that I like it here. My new sister and 2 brothers are tres intimidating but c'est la vie---we'll get used to each other soon. I do like my new people. I wag my tail, cuddle and dance around for them. My new bro Fred told me they're a little weird about learning manners and going on lots of walks. I memorized where the laneway is so I can march right up to my new home. Before I go to see if anyone has any treats for me I want to say to everyone there MERCI, MERCI, MERCI, MERCI, MERCI. Gloria
And, the email I received was from a long time reader and Shelter friend - what they said was so touching:
Hi Renee, this morning I read your blog about Chevy and his story and especially those sad sad eyes touched my heart. I was so glad to read that you - once again - came to the rescue of an animal in need and that this cute little guy found a good home. A few hours later I found out that Chevy is now living in my neighborhood!! Renee, not only did Chevy find a good home - he found the best! [they] are the most caring, animal loving people around. This little boy will be spoiled rotten and the sad times he had to endure will forever be history. Miracles do happen - this little guy is living proof ! Keep up the amazing work Renee! Hugs, Dagi & Turtle
I thought I would pull these comments, as they are so great and I didn't want you to miss them.
------------------------------------------------------------------

|

Share your comments

with us.
Oct 27, 2009
__________________________________________________
Care Bear
Dearest Fiona, It seems like not long ago you were with me behind cage doors. I remember you homeless, and I remember you finding your wonderful home. I love that you update me, and I love that you are remaining in the loop reading the blog with your mom.
Today, I received your donation for Care Bear's meds. I need you to know I am touched. Touched because you are alive and well, and still loved so much in your forever home, and touched that your mom cares.
Care Bear is still with me, thank you for thinking of him, he sure has come a long way since the beginning of September. His incision is nearly sealed [what a long process to close such a deep wound] and he is now altered, and felling so much better.
I am hopeful just a little more time and he will find a loving home just like you. Keep your paws crossed.
All the best to you. Kisses my girl and thanks to your mom for her thoughtfulness for donating to Care Bear's expenses! ~ Renee
------------------------------------------------------------------

|

Share your comments

with us.
Oct 26, 2009
__________________________________________________
Teckel
There is nothing worse than saying 'no' to a shelter in need. I generally don't, and in most cases if space will not allow me they will wait a little longer until we have space.
They send the dog's details, followed by the photos of them in the "pound", and I see the sadness in their eyes. I see them cower and I can see the stress. I know what lays ahead for them if I turn them down, and each one enters my heart with each glance at them. I worry about each and every one of them.
A few weeks ago I received a photo that pulled on my heart strings, as each does, one such was of a Teckel. A Teckel, I have since learned is a Dachshund in French (Quebec). I saw his picture - thin and I saw the sadness.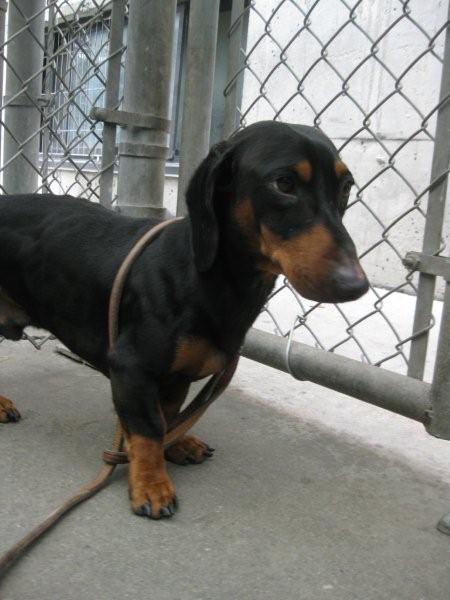 I, of course, said 'yes' and after a few emails back and fourth the arrangements were coming together and then something terrible happened. After a busy day at the Shelter I lost an email. The email which was marked urgent. I finally found it again and responded quickly, only to be heartbroken with the response I got. This response was "we lost them". I was horrified for this Teckel, and carrying with me a great guilt as he had run out of time and with my missed message that was the end of him.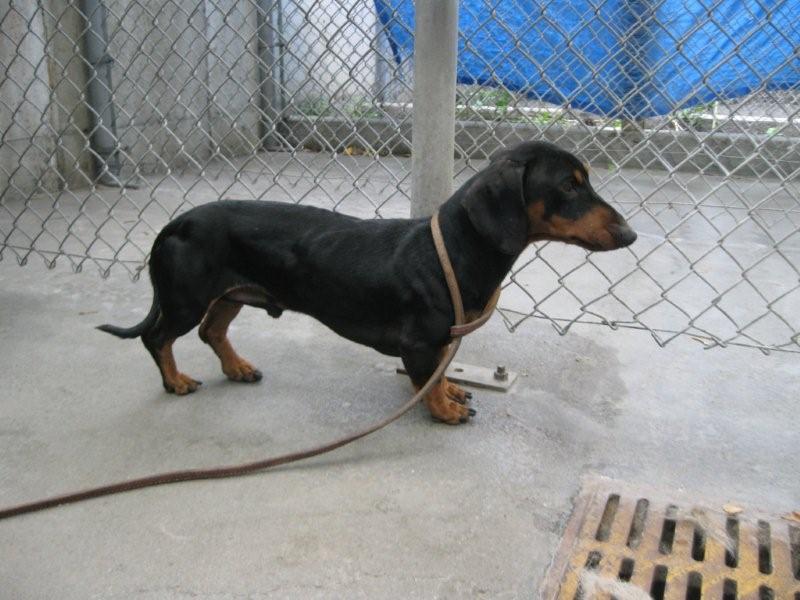 Imagine my relief when I heard he was OK, and would be coming to me. I had, it seemed, already loved him and upon meeting him for the first time I told him how happy I was to meet him, [I meant it with all of my heart] and I promised to find him a great forever home.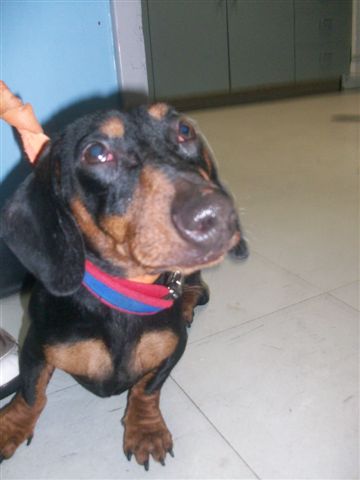 Today Chevy found it, after a little TLC, and adjustment time, he found compassion and now I wait for emails from him again, this time with a happy tail title. This message will be wonderful.
------------------------------------------------------------------

|

Share your Comments (2)

with us.
Oct 23, 2009
__________________________________________________
Pup Update
The pressure was on, the spaces filling up and there was tension in the air. We gathered ourselves, pushed hard, worked harder and held our collective breath. I am pleased to say it was a success. By the end of the day, when all was said and done five pups and two adults were adopted.
The biggest thanks to you for helping to spread the word and thanks to the Mix Morning Zoo. There was a line up at the door today when we opened. Once again when the pressure was on we all stepped up to the plate and we are no longer working with frustration, but are smiling.
I am sympathetic to the pain and stress that kill shelters must be under. When the Shelter fills up it can be very stressful. I cannot imagine how things would be if our only option was euthanasia. Holding out for space is so much easier I am sure when you're waiting on a happy ending rather than death. I recognize even more how much relief there must be from the kill shelters when they can send their dogs to me. I am so glad we can work together.
I will sleep tonight pleased with all that has transpired today. Many found their happily ever after.
------------------------------------------------------------------

|

Share your comments

with us.
Oct 22, 2009
__________________________________________________
Incoming
There was no line up, no calls, and no emails. Those cute faces were posted, the contact made on our end too - so many and nothing. By 3 o'clock I was worried. Worried that blogging about how unhappy I was to have ten homeless puppies was somehow a deterrent to potential adopters? I worry.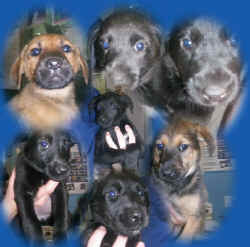 By 3 pm I was in a panic that perhaps it was because it was a Thursday people are unavailable to adopt until the weekend. Then came the thoughts of the 3 expected in Saturday, and the worry that potentially I could run out of space. Then came a dog surrender.
The tension was quite high by 5 pm as I began to think that if there were more, and a few strays I may be in a predicament. Then came an email from Lakeshore Pound with 4 more, and then a call about another surrender. Trying to not get worked up about a potential stress that had not happened yet, I redirected my thoughts to more phone calls. Thankfully it worked. I am now down 2 pups.
As it takes 1 adult adoption to clear a spot, and 10 puppies, I am not relieved yet, but am hoping the radio appearance tomorrow helps them reach out to adopters.
Please tell anyone you know looking for a new addition to check out the show and the web site.
Here's hoping it works wonders for the remaining 8, and perhaps the last 2 dogs who are still homeless too.
Fingers crossed I can return those emails tomorrow with "send them up" messages. Good vibes needed.
------------------------------------------------------------------

|

Share your comments

with us.
Oct 21, 2009
__________________________________________________
The Puppies Have Arrived
I am not going to lie. I love puppies. I love the way they smell, I love their breath, I love the way they wiggle and whine. I love their little doggy paws, and the little bum tail wags. I love to play with their minds, and teach them things, and mostly I love to cuddle. I am like all of you, one of those awww and ohhh'ers who just needs a minute with each and every one of them. However, with each, comes some sadness.
Today, I received 10 - ten surrendered puppies, from someone who has been in many times before with as many. The last time we convinced him to surrender momma, but, it seems he has acquired not one, but two more (and has a male at home).
Dog adoptions are low and we still have a Cairn and an Eskimo Spitz which is rare no matter what the age. The new arrivals are the JRT, and the Dacshund which should have been gone by now as we have lists of people who are always looking for these dogs ... and then there are the hounds :(
Shelters send me emails often with requests to please take a few more (Windsor is sending Saturday) AND, I have ten pups. Ten pups which will take up ten homes. Ten homes which would have easily emptied the Shelter, and made room for more to be saved.
I do believe that for some a puppy is best (not me lol), and that there can be advantages to such, but, when I see the older fellas peering out at me I can't help but feel frustrated for them.
I pray someday people will realize that there is simply not enough homes for all the animals, and do what is right and have their pets altered. I also pray tomorrow I don't receive any urgent emails with the faces of those that need saved or will die, as I am afraid tomorrow I won't have space.
If you know anyone who is looking for a pup ... let them know we have 10 who need loving homes.
------------------------------------------------------------------

|

Share your comments

with us.
Oct 20, 2009
__________________________________________________
River Cats
With the cold weather coming our river cat round up has been at full force. We have been trapping to gather them to find them a place to be warm, cared for and loved. All have been altered and placed to date. However, today I posted three to the adopt a cat web page, as it seems we have used up many resources.
With 27 at least, still to come in, I need these felines to move out fast, as I would like to make room for more as they come in. Twenty seven more feral cat homes seems rather overwhelming as I type this. The only stress of being no kill is relying on people like you to help me move them. As always you offer support and connections when I need you most. I am hoping this blog helps me as it always does.
These young cats could be house cats with patience and TLC, however, time and space is not permitting me to do it. Twenty seven fills a whole cat room. If you are someone who has room and time, and are looking for a cat to love these three [please take all three lol] would love to have you. If you are, however, a provider of shelter, food love and care, you may consider a barn cat, call me? email me?
With more coming in likely tomorrow, I know only from hearing from potentials that I will be smiling. Twenty seven potentials would be wonderful for all of us.
------------------------------------------------------------------

|

Share your comments

with us.
Oct 19, 2009
__________________________________________________
Sunday Success
The Rabies Clinic was a success. With people lined up at 11:30 am, and with lines continuing right up until 5 pm; it's safe to say it was busy. All 195 pets were pleasant, and all their owners thrilled to get the chance to get the vaccines for them.
There were many Thank You's, and many requests to have it happen again. I did take note that most vaccinated were farm dogs, hunting dogs, and barn cats. These are the highest at risk for rabies, as they mingle with wildlife and other animals. We have made a difference. Those which needed it most, now have it. I will keep my fingers crossed that they continue with this as well as visiting with their vet. There is so much more to rabies vaccines that these pets also need.
The day went well and everything operated just right. The biggest thanks to the Dangerfudges for helping us. Also thanks to Lisa MacDonald, Jen Watson, Heather and to Laura, our Co-op Student, who attended on a day she didn't need to be with me.
BIG THANKS to Steve from Springmount RV who loaned us that gorgeous trailer, which made a perfect vaccine room, and not one cat got lost :)
And thank you for supporting the Shelter in this endeavour!
------------------------------------------------------------------

|

Share your Comments (1)

with us.
Oct 16, 2009
__________________________________________________
Rabies Clinic On Sunday
It is almost time. I am excited to do my part to make a difference, and am thrilled to provide a venue for a cause I feel strongly about.
Sunday will be our first rabies vaccine clinic. This will provide an opportunity for persons who do not have their pets vaccinated to comply with Provincial laws and have it done.
I must now mention that I do not want to see you if:
Your pet has already received a vaccine. If your pet has been vaccinated for a three year rabies (you may need to check this) within the three years, or has received a rabies vaccine this year.

your pet may be experiencing unwellness, or is immunosupressed, due to old age, or illness, or medications. You know your pet best.

If your pet is under 16 weeks of age this clinic is not for you. You must still vaccinate this year, when they are of age, please contact your vet for this.

Pregnant animals must not be vaccinated.
If your pet falls into any of the above categories, this clinic is not for you.
Your pet will not be receiving a physical exam at this clinic and that will be your call. With that said, if you do not fit into any of the above categories you are welcome to attend the clinic.
You will still be responsible for other vaccines, and preventative vet care as we are not looking to replace your vet visits. The local veterinarians will be pleased to assist you with that.
With these warnings I have now covered all the basis, and am now prepared to do what is needed to keep you and your pets safe. See you on Sunday!
------------------------------------------------------------------

|

Share your Comments (1)

with us.
Oct 15, 2009
__________________________________________________
Web and Blog Information
This blog is a clarification of the Owen Sound Animal Shelter's web site and the blog that I have been writing for over 3½ years.
This blog [that you are presently reading and have read many times] is written by me, Renee Robins. I am the Owner and Manager of the Owen Sound Animal Shelter. The Owen Sound Animal Shelter's web site is also provided by me, Renee Robins.
This is not a City web site, nor is it connected to the operations of the City of Owen Sound unless to clarify and/or enforce the City's By-laws or Ordinances. Although we are linked to each other, this Shelter's blog and web site are provided by me, Renee Robins.
That said, this blog and the views expressed in each and every one are from my daily events, personal views, venting, words of wisdom, pleas for support, educating the public and also encouraging responsible pet ownership. It is also a means to connect with each of you in the hopes of gathering homes, support, and care for each of the animals in my care that are homeless.
I take sole credit for the Owen Sound Animal Shelter web site and the Owen Sound Animal Shelter blogs - if there are questions, concerns, or complaints, please direct them to me, Renee Robins, at 519-372-1123 or osas@bmts.com.
------------------------------------------------------------------

|

Share your Comments (3)

with us.
Oct 14, 2009
__________________________________________________
Heartbroken Update
She came back! That wonderful lady who found the stray, took her in, loved her, cared for her, fixed her and treated her as good as her own; came back!
I was heartbroken when I saw the tears as she said goodbye with her surrender, knowing it would be hard to find another that would love her so much. The odds were good, but the task would be difficult as it is with so many now coming through. I knew it would take weeks for this girl to adjust and show her true colours, and I new it would likely take as long for her to find a home. A caged home is not a home, no matter how hard we try to make it comfortable. Cats adjust the slowest, and this makes it longer to find a home. No one wants the cat cowering in the corner.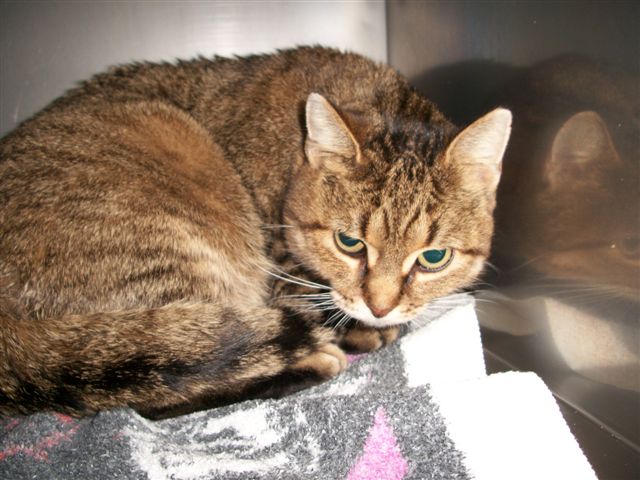 When I saw her this morning, mad at the world my thoughts were confirmed it would not be a fast shuffle. Then the call came, she would return if I could help her help the two cats work it out. This I could do.
With my concerns clearly for the elder who must remain eating and drinking and with as little stress as possible, I talked her through feeding and watering tips, and litter box tips too. I spent time teaching her about anxiety in the home, and how with such it can add to the anxiety with the cats. I advised her to take a deep breath and to let them work it out. Then thinking about potential cat fights advice was given on how to properly separate, and how to keep herself safe.
Armed with phone numbers, email addresses and all the advice I could come up with, she left with one less sad cat.
There was tears in her eyes again as she placed her in the car. This time they were tears of happiness, and my heart was happy.
------------------------------------------------------------------

|

Share your Comments (3)

with us.
Oct 9, 2009
__________________________________________________
Heartbroken
Today, three stray cats were surrendered to me. Two together and one on its own. These three were legit and honest to goodness stray cats, who I will not call "stray".
One found by a wonderful woman who, when she discovered the cat was expecting took her in, kept her well, weaned the kittens, found them homes and then had her spayed. She then volunteered the fee and a donation. She sobbed as she surrendered her, and my heart broke for her. Her elderly cat at home would not allow this one to stay. I was heartbroken that it could not work out for them. I was so proud of this lady, and so pleased with her. I assured her that this was a very lucky cat to have found her, and reminded her of the greatness she had done. I meant every word. I promised them both to take it from here and place her in a loving home.
When the others were surrendered a short while later with a similar story, I again was saddened they could not stay with such loving people, but glad they had found them. Again, kittens were in play, again homes had been found, and care had been given. Again, I promised to find them a forever home, and dedicate myself to them. Both people had cared for these strays and loved them. These cats were so very lucky to have had them.
It was a nice change for me to see such compassionate people with a cat surrender. Normally I get the "stray" cats, where owners can't even fess up to owning them so they can save the release fee. Those "strays" always come in with a fight, and never with release fees, or a donation. Those people do not show love or compassion. How sad that some would do it for a cat they do not know, and others would not do it for the cat they have had in their home.
------------------------------------------------------------------

|

Share your comments

with us.
Oct 9, 2009
__________________________________________________
Thank You!
It is a weekend to give thanks, and to recognize all that is wonderful, appreciate it, and be thankful. This is that blog!
First, thank you for following our struggles, rejoice with us, offer support, assist with fundraisers, donations, and kind words. I am thankful for you. Without you behind me, I could not do what I do, and for that I thank you.
I would like to thank my team, those who work with me daily to keep my four legged friends well, keep them comfortable, and happy until a new home can be found. I thank my team who fight with each and every one of them with their whole being too.
I thank my webmaster who works long hours without a vacation from the site, to support the cause. I am thankful for each person who surrendered their pet to me, thankful they were compassionate enough to do what was right so the animals could find a loving forever home.
I am thankful for each person that adopted, without you my friends would still be homeless. My doors could not reopen to others, and so many would be lost.
Thank you to all the family and friends who watch me live my crazy life and who have altered theirs to keep me doing what I do. Happy Thanksgiving to all of you! xo
------------------------------------------------------------------

|

Share your comments

with us.
Oct 8, 2009
__________________________________________________
Clothes Line?
Many moons ago, while doing patrols, I spotted him. A large dog running off-leash in a public area. I circle the block and return to see him still running. A man stands watching. I must be the enforcer. I approach, introduce myself and remind the owner of the City of Owen Sound's By-Laws stating the dog must be leashed. I ask the owner his name to which I get a shoulder shrug and he and the dog are off - fortunately, on leash.
A short while later, I spot them again. Same spot, dog again off-leash. I am now cranky. Clearly, my pleasant warning has gone nowhere and my gentle reminder has been ignored and clearly this person is not going to stop. Again, I circle and return. This time he is gone. I search for a vehicle - there wasn't one - no way to track him and a dead end.
Months pass and it happens again. This time, while children are playing, and clearly afraid of the dog. I don't circle, I park in the center of the road, and I am in full pursuit. However, I still have no idea who I am talking to. I again introduce myself, remind the owner this is my second warning to him, tell him of the fines and ask to see the dog's ID. I get no response. There is a mumble and he is off. I tend to be a rather determined person. When you upset me I remember. Ignoring me is a challenge and showing complete disregard for me is a sure way of having me remember you and keep my eye on you.
It took much investigation. It took lots of digging, but we found him. It's funny how banging on a door, and sending a letter confirming you know them can change a person's reaction.
Today, while on my way home I spot them again. Same place, dog a fair distance ahead again. Initially, I am furious, and prepare to lay charges. However, this time when approaching I get a great surprise. This dog is now leashed ... on the biggest leash I have ever seen!! A clothes line wrapped around a giant spool. Like a very big yo yo and this dog ran back and fourth.
I was greeted with a smile and noted the shiny dog tag too. Now, we are all happy.
------------------------------------------------------------------

|

Share your comments

with us.
Oct 7, 2009
__________________________________________________
River Cats
If you're a resident of the City of Owen Sound or have spent anytime down by the Farmer's Market, or Tim Horton's downtown, the library or basically anywhere around the river, you have seen them. We refer to them as "the river cats".
Each spring and summer we gather them, and in a short time more appear. Rumour has it that people drop unwanted cats there, as they know they will be fed. They are fed regularly by the local cat feeders. Despite warnings, and by-laws and signage that these cats are not to be fed.
We have been attempting to gather them now for many weeks, and it is a very slow process. A fed cat cannot be caught. We had hoped to have them all captured, and brought to safety and warmth before the cold weather hits. We are putting a great effort in to trying to get them in. It is urgent, now, as the weather is turning colder.
Today, while gathering one of the River Cats, I notice three more. So, I set out more traps and wait. I watch the cats approach, smell the food and then retreat. I wait, they return and they approach again and retreat again. It is basically a game of cat and mouse. While waiting, I wonder. My gaze wanders and I discover not one, not two, but three full dishes of food. I now know why we are being defeated.
This blog is for those who may be feeding them, who have not heard we are trying to get them to safety. This blog is for those who may know someone who is feeding them. The weather is changing and it is our intent to get them to safety, alter them, treat any wounds, feed them, and find them homes. Our goal is to find them a forever home, one in which they are loved, and out of harms way. I want nothing more for them than the best.
If you know anyone who is feeding the River Cats, please tell them that we are urgently trying to get them out of the cold and into forever homes. Please tell them to stop feeding them - we have traps set to retrieve them and need their help to get this done quickly.
------------------------------------------------------------------

|

Share your Comments (1)

with us.
Oct 6, 2009
__________________________________________________
Kind Soul
The strangest thing started my day. While sitting at a red light this morning, I spot [in the center of 10th Street] a deceased cat. Todd and I sat together wondering where on earth we could park quickly, remove that pour soul off the road safely and avoid joining it on the road. [It is our job to remove such things.] This poor thing was right in the line of traffic.
As we sat, we watched cars thankfully maneuver around it. However, after a few passed it, it became clear that this kitty may cause an accident.
While we discuss the game plan and prepared to put it into motion [I jump, he proceeds forward, slowing traffic, etc.] the light changed, and walkers proceeded onward. During the crossing, a woman carrying coffee walks past the kitty. I can see the concern on her face. A few more cars pass it, and I can see she is thinking what I am thinking. Nobody should be treated this way. Next comes the biggest surprise to me... she runs forward, grabs the kitty's body and slides it off the road [bare handed] and with coffee in her other, gagging the whole time.
I was filled with pride, as it takes a lot of guts [pardon the pun] to be so kind. This poor kitty, now with me, will be treated with dignity.
A big thank you for helping to make this kitty's passing a life worth remembering. Wow! [This was not a method I would have used, however, it worked.]
------------------------------------------------------------------

|

Share your Comments (1)

with us.
Oct 5, 2009
__________________________________________________
Duckie
He came to us fighting for his life, full of toxins and urine. He came in need of a lifesaving surgery, and he came in homeless. We struggled with him, and we made him well. He is now clear to go home. With his struggles now over and a full life ahead of him, I must now do my part with the toughest struggle, finding him a home.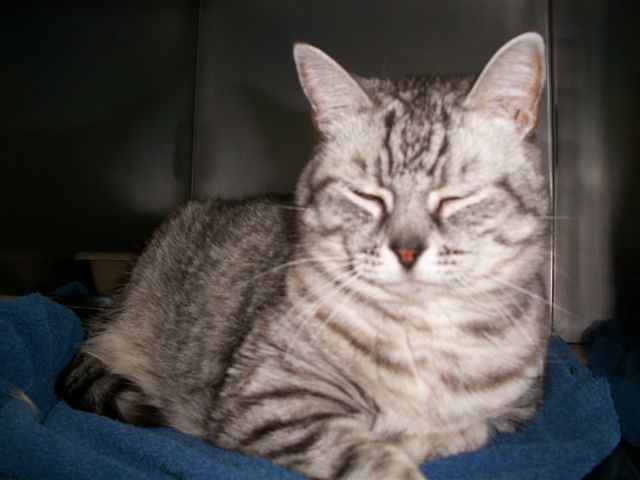 Such a handsome fella, and such a great friend to everyone - the task should not be difficult, however he is already a mature cat, and one with a "sad history" I must be truthful, and hold nothing back, and many people who admired him were told "this cat is a little extra special, as he will require special food and observation". The special food will keep him healthy and from being blocked up.
It seems with so many other cats/kittens to choose from this has not been a selling feature. I worry this may keep him homeless a long while. Although homeless is better than death, it is still pretty crummy, and I sure hope this blog helps him find a home.
With all the "special" things I see, this one is the least of a concern, as all cats in my mind need observation, and the extra food is not so costly when its only one. But, I am not the one looking, but if I was ... I would keep him. How many times have I said that? [lol]
Please help me help him, tell everyone you know, and if your considering a cat for your home ask about him. Come and meet him. Lucky Duck needs his lucky day soon, let's make his fight for life worthwhile!
------------------------------------------------------------------

|

Share your comments

with us.
Oct 2, 2009
__________________________________________________
Surgery Day
It was a marathon of sorts. There was a fair bit of moving fast, shuffling, and lots of concentration. No corners were cut, and it was an intense time.
Nine hours later, and more than a dozen surgeries later, I shut the surgical room door. With a bee sting resulting in a lack of surgery Monday, and with next week missing one too, today meant a double up day. Too many homeless just could not wait. Thank goodness my team are troopers. The great doc works with little food, a few coffees, and only a few short bathroom breaks!! We even managed a suture removal and microchip and took time with customers.
Thankfully we run well on adrenaline, and the excitement of our big news kept us feeling it. I must say I am now very exhausted and not feeling much like doing that kind of a day soon, but am proud we have done it, setting a new record for sure.
Talk about a great start to our second year of surgeries. for sure we will win this race!!
------------------------------------------------------------------

|

Share your comments

with us.
Oct 1, 2009
__________________________________________________
Rabies Clinic
Dear Doc;
Happy Anniversary, today marked a year of surgeries!
This message is for you, who I owe so much too, and I wanted to make my thanks public!
With over 275 surgeries now complete, with so many lives altered with each, we have made a difference together. This year has been the most challenging, through many trials and tribulations, and yet it has been the most rewarding. You have made a difference for so many, and have placed a smile on my face.
Each surrender and each stray now comes with hope, as I know that we can find them a forever faster. I cannot thank you enough for that. No other vet offered to do what you do, and no one has put themselves on the line for us like you. I am forever grateful to you.
Now, before you all make your fingers bleed from speed typing, is the blog you have all been waiting for. I recognize that many of you are very impatient lol. I received a few emails today asking me to share the big news, but I must tell you, it was important that I waited. I must also mention that this big news is something I have had to hold onto a few weeks now, and your impatience is a fraction of what I have been experiencing.
The Doc and I have made a few plans, and one is now in motion...
Mark this date on your calendar! October 18th, 2009 from 12 noon - 5 pm there will be a public rabies clinic. This clinic will offer a rabies vaccine to each dog or cat at the low cost of $25.00 each or $20.00 for three or more animals in one home.
It is my job to keep people and pets safe, and to do my job by protecting them. With this rabies clinic, I will do just that. The Shelter is putting itself in the line of fire, and with this I anticipate many repercussions. However, it is what is right. Having survived a year with an in-shelter clinic, that I knew would be a conversation piece, I feel confident that a little more of that will be coming and expected.
Thanks for all your support and don't forget to come out to the Rabies Clinic.
------------------------------------------------------------------

|

Share your Comments (3)

with us.
---
"Fanny came in for a visit"
---
"Polar came in for a visit"
*The views expressed in these blogs are the personal views and daily events as told by Renee Robins, and the views expressed don't necessarily reflect those of the City of Owen Sound, unless relating to City By-Laws and Ordinances.

2000-2009 © Owen Sound Animal Shelter. All rights reserved.
Web site and blog created, updated and maintained by Elaine Watson