OSAS
by: Renee Robins
-------------------- Christmas Poem to Share. ---------------

Recent Posts
-------------------
Dec 31, 2007
__________________________________________________
Santa Arrived;
Little Feet;
'Tis The Season;
Deliveries;
Signing;
Mickey;
Christmas Thoughts;
People Suck;
Bubbles;
Hobo;
Hde'N Seek;
Something New;
Coupons for Gifts;
Pennies for Pets;
Honey & Ginger;
We are Celebrating;
12 Weeks Old...;
Family;
Gideon;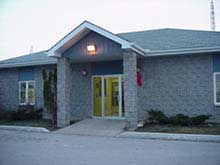 Archives
-------------------
Nov '07 Blog;
Oct '07 Blog
Sep '07 Blog;
Aug '07 Blog;
Jul '07 Blog;
Jun '07 Blog;
May '07 Blog;
Apr '07 Blog;
Mar '07 Blog;
Feb '07 Blog;
Jan '07 Blog;
Dec '06 Blog;
Nov '06 Blog;
Oct '06 Blog;
Sep '06 Blog;
Aug '06 Blog;
Jul '06 Blog
Jun '06 Blog;
May '06 Blog;
Apr '06 Blog;
Mar '06 Blog;
Feb '06 Blog

email your comments to:
owensoundanimalshelter@inmail24.com

Success Story:
- They made it... read Renee's blog;
- Read Todd's Interview;
- Little dog pulled
from icy water;

Keep up-to-date
with our schedule.
Gideon
He was named Gideon, as in the Christmas Angel, as he was born on Christmas. His family loved him and when I first saw his face he was laying in a photograph all sprawled out and all big and fat on the chesterfield.
When he came to me it was not the dog I recognized. He was now so thin, clearly stressed and unhappy. The angels were not on his side the day he was surrendered and my heart ached for him.
This year on his 6th birthday he was surrendered. It pained me to see him this way and I tried extra hard to keep him happy. His bum wiggles and desire to please as he would do anything for cookies attitude, made it easy to place him.
Thankfully they came looking for an older large dog for their country home and spent time with many before deciding. He was smiling and they were smiling and a weight was lifted.
I hope to see more pictures of Gideon soon. Maybe a few of him sprawled out on a couch, happy and feeling at home.
The best gift for him this Christmas was for him to be loved again.
------------------------------------------------------------------

|

Share your comments

with us.
Dec 28, 2007
__________________________________________________
Family
Three up for adoption and three placed today. I love it when it works. I hope that all three stay where they are ... fingers crossed!
Although three have left this only clears one cage and two more expected in and one holding for three days and one not yet reclaimed stray, and space is starting to be limited.
The waiting list has started again. I would never turn down a dog in danger or one in need of a home immediately so for these we can fit them somewhere but it is so important that we continue to operate as a no-kill facility and keep them moving out to help keep them moving in.
Every dog we have posted is wonderful and no one is aggressive and cannot be placed. If you know someone looking for a dog, please have them contact me. That perfect match may be with us and they just might not know it.
OSAS has great supporters and when we need help we ask and you help and for that we are forever grateful.
Please put the word out we have some dogs who are more than ready to go. Please pass it on. January brings with it so many homeless dogs and I hope to be able to keep up and to be able to help other rescues who are not keeping up so that we can save their lives.
We are now bracing for January the 'dog drop-off month', let's start it with some wonderful dog adoptions!
------------------------------------------------------------------

|

Share your comments

with us.
Dec 27, 2007
__________________________________________________
12 Weeks Old and Slated to Die
You may have noticed today the addition of three beautiful pups to the site... if you haven't - well check'em out.
Three Australian cattle dog pups at only 12 weeks of age came to me two weeks ago. These three were "strays" from Durham and like many others who did their time they were slated to die. Upon hearing they were there and asked if I would take them, my response was "...of course", followed by "...who kills puppies???? ... who kills puppies at Christmas?"
When it came time to pick up these purebred pups I was a bit surprised to see how highly adoptable they were. I was disappointed to know that they had a short time limit and would have been destroyed. Under some observation, we noted that these pups were full of parasites and were also contaminated with Giardia (which comes from eating chicken poop - normally).
The last two weeks have been spent clearing that up and they are now ready to go. Tomorrow I will take one to the Mix radio show and I am sure that will get the ball rolling. The timing now better for a puppy it is time to give these babes the second chance they have been waiting for.
------------------------------------------------------------------

|

Share your Comments (1)

with us.
Dec 25, 2007
__________________________________________________
We are Celebrating
The treats are out and it's party time. A new dangling mouse for Jelly Bean (she chases it for hours), a jingle ball for Mookey, a cat nip stuffed pillow for Mickey, and some canned food and a new stuffie for sweet Bubbles. Cat treats fill the bowls and loving to fill their hearts.

Bella has a new Santa kong and a stuffie I fear will soon be unstuffed, Taz a great big bone, Gideon a nice fluffy pillow to lay his head, Satin (I know how much she loves those marrow bones...so she received a full bowl!), Blonde a squeaker and Wizzard a new chewbie. There is joy in their day, their bellies are full and we are celebrating.

We celebrate the gift of a second chance and we celebrate the gift of life - the life they still have.

Thank you for helping to make a difference for all of them. Merry Christmas to you from all of us at OSAS.
------------------------------------------------------------------

|

Share your comments

with us.
Dec 21, 2007
__________________________________________________
Honey & Ginger
I was expecting the 'old time' screaming out of everyone from the Mix 106 staff. I was certain that although Honey and Ginger were nice, people would turn away and avoid talking to me.
You know - I did get a bit of that fearfulness - but what I didn't expect was the appreciation and the love that these two generated. I also didn't expect Grandma downstairs to ask "...can I hold one ... I love rats". I was even more shocked when another said "...we had rats, we let them roam free and we would have our bedtime drink together". We spoke of her old friend, and she assured me that the only bad thing about a rat was that they don't live long enough. I was half joking when I said "...wow, what a great rat mom you would be "...need a rat"? And then the pause comes. She knows it is proper to say she will think on it, and she does but, then she adds "...I have been thinking about it since yesterday when I knew they were coming in"!
I hand her the cage and she smiles ... I smiled and I do believe there was a hooray and a shriek. This shriek all in excitement and not from the site of them as I would have thought.
People who stared from behind the glass windows, daring not to come out sat open mouthed while grandma took her friends to her desk. I LOVED IT.
------------------------------------------------------------------

|

Share your Comments (1)

with us.
Dec 20, 2007
__________________________________________________
Pennies for Pets
Another day, another celebration and another Pennies For Pets.
Thank you Rob, for once again spear-heading a successful penny drive with the great kids you have helped help us, at OSCVI. All of you: Rob and Diana and Stanley, Chelsea, Vannah and Jason, Kay and her Friends, Mr. and Mrs. Breen, Ena, all the custodians at OSCVI, and the teachers, office staff, and Paul Morel, Barry Borley, and Fiona, Gail McFaul, RM 100, RM 102, RM 107, and the Science Room - who have given your change and supported our Spay/Neuter, Medical Fund and helping me save more lives.
It was my pleasure today to introduce you to my beautiful Bubbles who heals every day. It is Bubbles, and those like her who need medical care you have helped save. As a Christmas gift to all of you Bubbles will be sponsored in your name.
I hope that her new forever will be great, and in your honour she will thrive there. You have worked hard, and scrounged to find so many pennies and it deserves to be recognized properly. Bubbles loved meeting all of you and loved to show off her new smile. Thank you for the treats, food, and blankets as well - you know they will be well used.
I will be thinking of you over the holidays and please know you have helped make them better for all of us.
------------------------------------------------------------------

|

Share your Comments (1)

with us.
Dec 19, 2007
__________________________________________________
Coupons
There is always the debate to adopt our friends out at Christmas or not - a tough call, as I hate to turn down adoptions. I want people to think about the commitment all year and not just at Christmas.
I am one of those people who would consider adopting at Christmas if my lifestyle allowed it and I took holidays at this time. Perhaps this would be an ideal time for me to offer myself completely to a pet who would need the extra TLC that this free time could offer. If this is the reason someone adopts at this time then I support it. But, if it is more about the gift and not what is best for the pet then I have to discourage it.
Please, if you are one of those people who have called searching for a Christmas kitten, puppy or Christmas adoption of any sort please keep in mind:
This is a very busy time, hectic and scattered. This is not a time to build routines or add normalcy to an already flustered pet.

Your pet has become overwhelmed already with its' life transitions and adding chaos to its' life can create illness and or behaviour troubles.

If your pet gets ill you may not be able to find a vet during the Christmas season and the costs involved could be more than you are willing to put out.

Monies spent on Christmas celebrations may be needed to buy necessities for your friend.

I am not going to meet you in Town Boxing Day or in the middle of the night if your pet hates your family, bites someone, pees on your floor or if you suddenly become allergic.

Absolutely no refunds on these adoptions if there is a problem.
Consider a gift certificate where you can take the proper time and choose the pet appropriately - the pet you take home forever.
It is all about choosing for life a gift of a life.
------------------------------------------------------------------

|

Share your comments

with us.
Dec 18, 2007
__________________________________________________
Something New
Christmas is in the air, and all of my four-legged friends are ready.
Thank you to Strathcona School, Mrs. Gardiner's class, once again for the wonderful stockings. I did not peek at what was inside but I am sure they are stuffed full with wonderful creations - sure are stuffed full. Your help cleaning and walking was also appreciated.
Christmas morning is a fantastic time to be at the Shelter. We enjoy the surprise of what may be inside and sharing with our friends who love the added attention and, of course, the surprise excites them too.
Thank you for all your donations - the animals might be homeless for Christmas but they sure will be given lots of love.
On another note, congrats to ANML-RESQ on their new website - www.furkidsrescue.ca (check it out - it's great)! Hope your site does for you everything mine does for me :)
------------------------------------------------------------------

|

Share your Comments (1)

with us.
Dec 17, 2007
__________________________________________________
Hide'N Seek
I am freezing, wet, snow covered and frustrated. I climbed a fence in the snow without mittens, have waded through waist deep snow on a ravine, jumped snow mounds and I am exhausted! This is a hard job, but it calls for tough measures and I would do it all again had it worked according to my plans.
Last year around this time, three stray kittens were dropped behind city hall at the Festival of Northern Lights. I assume someone thought that someone might take them home. We only caught one cat, but then someone threw our livetrap into the river and another trap was stolen. As we formulated a plan the cats disappeared. In the summer, it was mentioned that perhaps one cat may have had kittens, which potentially were our Pink and Floyd and later Bricker (probably that dropped cat).
It was rumored there were others and our night patrols began. Three longhaired beauties have been seen and our best efforts have been given in catching them but we have learned over the years that a cat that doesn't want to be captured can't be captured.
So we guard our traps, for the cat's safety in the hopes of catching those that need warmed. It has also been discovered that these cats are being fed and a fed cat will not be trapped. Here lays our dilemma.
I have discovered piles and piles of fresh food in the snow and that it had not only been me hopping the fence to get to them. I spread the word on Friday to those we know are feeding them - they must stop those feedings on Sunday and we will catch them on Monday (they will then be safe and warm). Full cats leaves me no way to catch them which leaves me disappointed and another cold night for the cats.
------------------------------------------------------------------

|

Share your comments

with us.
Dec 14, 2007
__________________________________________________
Hobo
[Little's Hobo tune] ... "There's a voice, it keeps on calling me, down the road it's where I want to be". Rememeber?
Remember the Littlest Hobo theme song? Ya, I named him Hobo for his striking resemblance to that wandering dog - this could have been the reason I became the dog catcher.
Well suited was this boy who traveled from Hamilton to me and had traveling on his mind. A Husky in every sense of the word he sure was a busy guy and seemed to have people to see and places to go. His aloof nature was the reason the SPCA rejected him and his lack of interest in being social was almost the reason he died.
As a typical Husky I was hoping to showcase him for people that are looking for everything a Husky is: a potential traveler, talker, busy and so smart. I did not expect his showcase to help him move that fast. They came looking for a Husky, one to replace one who passed and to keep the other Husky at home company. A perfect match for this Hobo who will no longer be seeking his forever home - he has finally gone home and his travels are over!
------------------------------------------------------------------

|

Share your Comments (2)

with us.
Dec 13, 2007
__________________________________________________
Bubbles
When we found her, she appeared to be a cat beaten and she had clearly lost the battle. With a swollen nose, two fat lips and it looked more like the face of a boxer she wore. Thin, dehydrated and bleeding from her mouth it was uncertain just who she had tangled with. One look at her and I knew we were in for a journey and I wasn't certain how it would end. Her matted fur confirmed she was in need of care and attention but I never would have guessed the cause.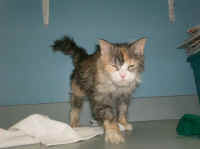 Her initial exam started as they always do with a check for ID, ailments and her description recorded, but when I opened her mouth to age her, by her teeth, I was shocked. I gasped and remember now that I initially felt faint and shocked at the massive mouth tumor which filled her.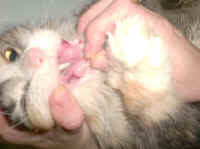 We tried anti-inflammatory, steroids, anti-biotics and then we had to make a decision. Our best guess was cancer, and we knew we could not beat that but after a consult with the vet it was decided we would try to save her.
I have now spent months getting to know her and have named her Bubbles (if you read my book you know why).
Today, Bubbles had surgery to remove this mass and was also spayed. It is YOUR DONATIONS that help animals such as Bubbles, through the Spay/Neuter and Medical Fund, to get well and overcome these tragedies.
I am hoping for a speedy recovery for my sweet Bubbles and a new home soon after the holidays.
------------------------------------------------------------------

|

Share your comments

with us.
Dec 12, 2007
__________________________________________________
People Suck
Ok there are better words to describe how I feel about them not many can be written here and shared with the world without me losing my dignity.
Another drop today, this one, also in the cold and in the snow - carefully placed with blankets and treats, as though they had loved this poor soul; unlike the one stuffed and taped in that box last Friday.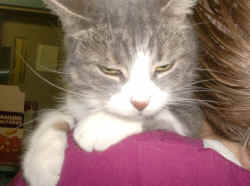 Why drop her at the corner don't you know we have cameras? So much thought put into this deliberate deception, it was planned and carefully thought out.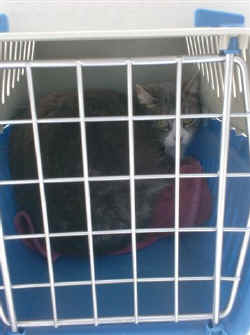 You knew we would be by shortly and that the carrier would be highly visible with the blanket under it ... but did you take into consideration the snow plow schedule? You should know that had we happened by minutes later it would have been the snow plow that would have found your sweet cat.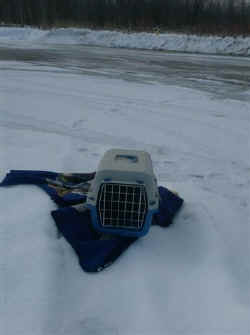 I am thankful that was not the case. And again, I am responsible for this bill - thank you. There were others that needed the care that the money would have provided. These funds have priorities, but you have taken it upon yourself to make your needs more important. In my book you are selfish and uncaring of anyone but yourself. To see more click here...>
Please help me by checking out her picture and the details and if you have any knowledge of the owners, please call me at 519-372-1123 - I will ensure you remain anonymous.
------------------------------------------------------------------

|

Share your comments

with us.
Dec 11, 2007
__________________________________________________
Christmas Thoughts
It is the season for giving and the donations have been coming in.
Thank you for your smiles, support, gifts, donations, food, litter and treats. It is truly the best time to be at the Shelter as everyone is full of praise and support. It is not easy to be with the homeless pets at Christmas but with your support it is made easier.
Each animal is getting a treat for Christmas and there will be good times all around for them. It is sad to see them behind bars on such a special day but our time with them will make it a good day regardless of the circumstances.
Many of you have asked what to give, so I have put together a quick list of things we can use at the Shelter.
A great gift to give is to sponsor a pet - your money will go to the Spay/Neuter, Medical Fund which helps strays, increases our Shelter animal's health, which increases our adoptable animals, which in turn allows us to take more animals in.

Donations of dog food, cat food, cat litter, animal treats and kitten food (we really need some dry and canned now).

Paper towels, cleaning supplies, newspapers, old/clean towels and latex gloves which keep us all clean and healthy.
If you would like to help, tell a friend about the Owen Sound Animal Shelter and what we do for all the animals. Also encourage them to check out our web site. You never know when someone might be looking to adopt a new friend.
I would like to thank you for your continued support and as you know this means the most to me and the staff here at the Shelter.
------------------------------------------------------------------

|

Share your comments

with us.
Dec 10, 2007
__________________________________________________
Mickey
I guess I should never assume that the person I am talking to knows what I am talking about.
When I refer to a cat as a reformed feral I should not assume that people know what it means (meaning: once living entirely outdoors). Reformed is a polite term for the cat not knowing many things like: hearing a toilet flush, the phone ringing, the microwave doing popcorn, or the vacuum running. I was wrong to think that they knew he would hide and want to be alone when they brought him home, or that it would take time for him to be the lap cat we know he wants to be.
My apologies Mickey as I was hoping they understood. But that was not to be as today he came back. This once feral cat, who is not aggressive but just a big chicken, who wants to hide (come out slowly) and who needed patience and understanding.
Mickey is much like my friend Llyle once was. Mickey traded in his street life in the hopes of something better which takes time. Months were spent in preparing Mickey for a life off the street and we accustomed him to touch, love and affection. Before he went home he was rubbing on the cage and talking back and even tolerated gentle holding.
Now, we have to start over as his trust is gone. He was scared, forced and his limits were pushed. I had hoped for patience and love for you, Mickey, and I will do it all again.
Here's hoping a quiet home reads this, one who is understanding and can give you that chance.
------------------------------------------------------------------

|

Share your comments

with us.
Dec 7, 2007
__________________________________________________
Deliveries
Some are delivering Christmas goodies, newspapers, towels, blankets and donating dog and cat food. This is, of course, the season of giving and people are so kind.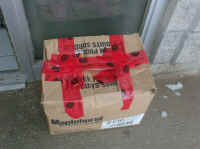 But, one delivery today was of a different sort. I just missed this deliver by seconds and was walking from one room to the next and this book was dropped. This leads me to believe that they might have been watching or were moving very fast with their delivery. I was hoping for a nice surprise, but sadly knowing the truth, as this package was not wrapped in love or with TLC. This one was a quick, sloppy wrap sure to get the job done.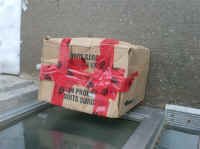 Inside, a senior black cat, who had clearly seen better days. Alive, and very cold, and shocked with being outside.
I always try to look for the positive with such gifts and with that I am thankful for:
She stayed in the box,

She is warm now and was only in the box a moment,

She is altered and declawed, which one expense I won't have to put out for her as I will have to pay the City's portion of her surrender fee from my own pocket, and

The owner had more guts to drop this package at the Shelter (while the doors were open) and not leave their cat at a No Frills store like that other person who dumped their cat.
Thanks a lot! I love to be burned at Christmas. My heart breaks for this senior who will not be able to live out her days in a home she knows. Not to mention all the stress she will now have with me here at the Shelter. This just shows that this cat wasn't loved enough during her lifetime to warrant her last days being in her own home. Who disposes of a cat in their senior years in this manner.
Never in a million years would a caring owner dump their animal in the cold in a half-wrapped box at the front door of a Shelter. Shame on you!
------------------------------------------------------------------

|

Share your Comments (2)

with us.
Dec 6, 2007
__________________________________________________
Signing
Tomorrow it will all be about Adaboi and beans?? First with the Mix and then off to the Bean Cellar for coffee and a book singing.
If you have yet to purchase "Parables From the Dog Pound" and need a great Christmas gift for an animal lover who would love to be inspired come in and I will sign the book for you! Everyone who reads it is changed and the best part is that they are inspired to make a difference.
There is no Christmas gift like that in the world, that inspires and evokes compassion. The plan is to change lives for people and pets.
Please pop in and pick up a copy and join me for a coffee?
The Bean Cellar is at 237 9th Street East from 2-4 pm (across from Bayshore Broadcasting) appropriately, makes finding it very easy, unfortunately I can't take Adaboi with me or I could have saved a step.
In the hopes he finds himself a home while I am sipping that coffee.
------------------------------------------------------------------

|

Share your comments

with us.
Dec 5, 2007
__________________________________________________
'Tis The Season
Today, it was the tail of two Gingers. Both had wagging tails and were full of beans.
One was my girl who met her loving family as they came searching for a dog who was just like the last dog they owned who had passed of old age. That dog too was a Chocolate Lab and very much the same as my Ginger. It was love at first sight for both of them.
The other Ginger who came to see me today was a little shy and reserved, but who loved me in no time at all. She came in to be fitted for a gentle leader. This little Ginger was less than ten pounds and all Papillion. I thought she would be easy to handle on a leash, but not this one! When we were finished, it was nice to hear Ginger's owner say "...and now we can walk more". This makes me smile, and I am sure if Ginger knew what was said she would have wagged her tail even harder.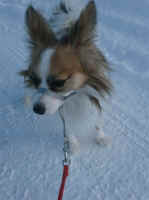 I also had a visit from my Rusty who is actually getting fatter and inseparable from his "daddy" who has named him Chong.
A visit from Sierra soon followed and other than a little bit of an itch her life is now perfect.
Oh, and my best news for last ... a Christmas wish from my Willie who is, of course, very well (you will have to check it out).
Tags were wagging all around today!
------------------------------------------------------------------

|

Share your comments

with us.
Dec 4, 2007
__________________________________________________
Little Feet
There was some relief, I must admit, when I saw the tiny paw prints in the snow. Although I was saddened to know they were out here, I was happy for me not to have to knock on a door with a complaint and they not owning a cat.
When I saw that kitty outside in the window well the relief was gone and it was a combination of anger over the icicles hanging off its' whiskers and the man inside watching TV. I must admit to a bit of pleasure in knowing I had witnessed this By-Law being broken for myself (makes the court thing so much better). There is always the question of "who complained" - this time I had the answer "I can see your cats sitting right here", and then we discuss the By-Law, the rules and the fact that this guy is not following them. I do believe there was an excuse made about not being able to afford to surrender them and could I take them? And, could I bill him in January? At which point, I reminded him that the fine would be so much more by January and perhaps I could help him find the cats homes if he just called me. Then comes the moment of delay while I stare at him and he at me and then it happens - I say "well, you need to bring them in now so I won't lay charges!"
Here is where I start laughing inside and keep it all to myself as he quickly goes outside in his slippers to gather them in from the snow. I watch him struggle and I know it is cold out there. By the time it is over I was dying inside because I wanted so bad to say "hey pal, how's the toes - how do you like it?" But I didn't.
Here's hoping he calls me tomorrow for help to find those poor babes homes and that the cold toes might spark some emotion in him!
------------------------------------------------------------------

|

Share your comments

with us.
Dec 3, 2007
__________________________________________________
Santa Arrived
Although there is a storm brewing ... in every sense of the word, I am focusing on my happy Saturday and I am thrilled to post some of the pictures (as promised).
The fantastic turn-out on Saturday brought me smiles all day and with the photos in my hand it brought smiles to all our faces. As you see now, there were lots of laughs as poor Santa tolerated all sorts of surprises. Pets in pairs, pets in family groups, puppies who chewed his hat and a very friendly Gorden Setter who got very friendly with him.


The best behaved cats attended and must have known there were presents riding on the line as they posed and sat proper - even my Rocket showed up to meet the Big Guy!
Pets of all sizes, the big to the very tiny - they all sat and told him what they wished for. All with hopes for the best Christmas ever and in such loving homes I am sure they will have it.
------------------------------------------------------------------

|

Share your comments

with us.
2000-2009 © Owen Sound Animal Shelter. All rights reserved.