By: Renee Robins

Recent Posts
-------------------
Mar 31, 2009
__________________________________________________
Please refresh your page...>
Emily Communicator - fundraiser;
Council bats down cat limit;
Roy is Going Home;
Runner;
Belle Has Found a Home;
Can Anyone Help?;
Uno Update;
Do You Know This Dog?;
On a Happier Note;
G Wiz;
Luck of the Irish;
Dogs and Hot Cars;
Dolphin Tracker;
Honey;
Found Rodent;
Dog Tag Time;
Animal communication Day;
Shelters and Rescues Need Your Help;
Lenny;
Could Lenny be Pumpkin?;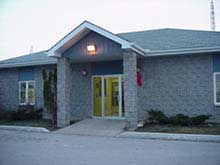 Archives
-------------------
Feb '09 Blog;
Jan '09 Blog;
Dec '08 Blog
Nov '08 Blog;
Oct '08 Blog;
Sep '08 Blog;
Aug '08 Blog;
Jul '08 Blog;
Jun '08 Blog;
May '08 Blog;
Apr '08 Blog;
Mar '08 Blog;
Feb '08 Blog;
Jan '08 Blog;
Dec '07 Blog;
Nov '07 Blog;
Oct '07 Blog
Sep '07 Blog;
Aug '07 Blog;
Jul '07 Blog;
Jun '07 Blog;
May '07 Blog;
Apr '07 Blog;
Mar '07 Blog;
Feb '07 Blog;
Jan '07 Blog;
Dec '06 Blog;
Nov '06 Blog;
Oct '06 Blog;
Sep '06 Blog;
Aug '06 Blog;
Jul '06 Blog
Jun '06 Blog;
May '06 Blog;
Apr '06 Blog;
Mar '06 Blog;
Feb '06 Blog

email your comments to:
osas@bmts.com

Keep up-to-date
with our schedule.
Could Lenny be Pumpkin?
After further communication with his rescuer, it seems that potentially he could be.
This message from her "...the other day we got a phone message from a girl named Natasha who was missing a kitten named Pumpkin. When I called back I got a wrong number. I tried different variations on the number, *69, everything. In her message, she mentioned that she'd just gotten back from Egypt. I even phoned someone I knew whose daughter had been on a school trip to Egypt. I wrote a note on every single poster I had put up around town beckoning her to call back; and nothing."
This, of course, makes me wonder if perhaps someone was looking? I must admit history has proved that more often they are thrown out, tossed out, or lost and no one goes looking, and no one cares. BUT, every now and again, someone does go searching and they do try to find them.
In the hopes that perhaps Lenny is a pumpkin, as pumpkins person was looking, maybe someone will know?
Natasha if your out there, please call, I would hate to have a kitty who is missed !!
Lenny is a six to eight month old male, not altered. He is a brown tabby in colour, thin with a leggy look. He has no ID and is from the Hanover area.
-----------------------------------------------------------------

|

Share your comments

with us.
Mar 30, 2009
__________________________________________________
Lenny
He is not my first Lenny, nor is he the first kitty with his story. Lenny the small kitty, found on the street sick and hungry. No owner to claim him, and nowhere to take him. No cat by-law from where he was from, the town does not want to take responsibility for him. The others won't help, or don't return calls.
Lenny needs vet care, he needs TLC, his finders are not equipped or skilled, they have cats who would be at risk, and they can't do the vet care. The options for Lenny, come to me with the fee or go back to the street. I am not obligated to take Lenny, as the others are not. I technically have no reason to help him, and have no shortage of cats or dogs who need us. However, I cannot turn my back on him, knowing I am likely his best chance. Lenny came to me today (congrats to his finder for covering that fee, as your not from my area) and today he started his long road to recovery.
Terribly dehydrated, and terribly stuffed up, with an upper respiratory, he immediately needed fluids and medication, and will continue on them for weeks. Please keep Lenny in your thoughts and prayers.
AND, please ask your area about your cats, who helps them when they need it. They all need someone.
Just pleased that Lenny's people knew they could come to me! Good luck my friend, let us battle now together!
-----------------------------------------------------------------

|

Share your comments

with us.
Mar 27, 2009
__________________________________________________
Shelters and Rescues Need Your Help
Shelters across Ontario are filling up, as people are losing their jobs, homes and their pets, rescues are filling up as well trying to take them all in. (My phone has been ringing off the hook this week, and the computer too, as people are seeking options to keep their pets). Monies to keep these rescues running is not coming in as well, as people are having less to give.
Animals are not being vetted or altered in their homes, or with rescue, and I fear it will only be getting much much worst. Now is the time that we need your support the most. All of us. It is important as rescue that we all stick together to get through this rough time, and offer support.
Today, although we are rather full, I accepted three wonderful dogs. Hopefully wonderful so much they will go home quickly. Zac a black lab pup busy boy, best with older children, Dave, a laid back gentle giant Bouvier mix, and Clayton, who has now been with two rescues, and still homeless.
If your considering adopting, now would be a very good time for all of us. If your considering giving, now would really be a good time too. Call your local rescues as well, and ask what you can do to help. Even providing a smile is important.
Good luck Dave, Zac, and Clayton, three wonderful dogs, so deserving of life, lets get you moving so we can make room for more.
-----------------------------------------------------------------

|

Share your comments

with us.
Mar 26, 2009
__________________________________________________
Animal Communication Day
"Animal Energy therapy is working with an animals own auric field to release blockages in the flow of the animal's energy." This helps to increase the animals ki or life force to allow them to heal quicker, improve their movement, and give them a feeling of overall well being. This is therapy for animals that are unwell but also benefits animals that are in good health"- Lorraine Nosworth RT-CRA.
Lorraine is a Reiki master and Practitioner with the Down to Earth Healing and Spiritual Awareness Centre.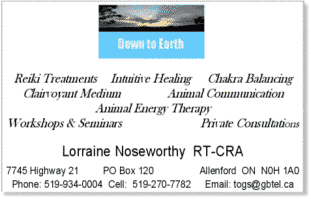 She and her husband Wade, who also practices Reiki, have offered their services on our Animal Communication Day on April 5th at Grey Sauble as a fundraiser for the Shelter.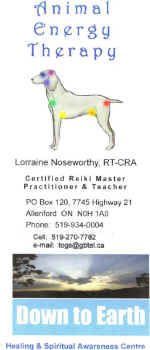 They will be available for your pets or for yourself too! A ten-15 minute session will be $10.00.
We are very blessed to have this pair join us on our exciting day, thank you both!
-----------------------------------------------------------------

|

Share your comments

with us.
Mar 25, 2009
__________________________________________________
Dog Tag Time
If you were one of the dozen people who saw the ad in the paper reminding you about dog tags and who came to see me today, yay. You have saved $10.00-$20.00, have ensured we can find you if we find your dog, ensured your neighbour can find you through me, so I don't find your dog, you are following the rules of the city, you are being a responsible pet owner ... and you are avoiding facing charges. You are my friend!
If you did not see the ad, here is your notice, you are running out of time!! After March 31st, the price goes up $10.00 per dog. After March 31st, if I end up with your dog and you come for it, it will not only be more for the tag, there will be a charge for not having the tag on top of it. This making a reclaiming fee double in many cases! This of course, will not be my fault, although some of you will yell at me, swear at me and tell me it is unfair.
So, let's avoid that - let's be friends and I hope to see you soon!
-----------------------------------------------------------------

|

Share your comments

with us.
Mar 24, 2009
__________________________________________________
Found Rodent
Anyone missing a little rodent? He is about one hand size big, and cream in colour, and may be missing from the 8th Street East area? He came to me, as a stray. With this note attached.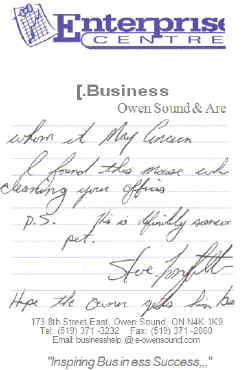 Seems the cleaner found a little someone while cleaning, and well unlike most people decided to pick him up. AND, brought him to me. Yay cleaner!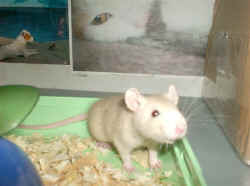 He is clearly domestic, and not a mouse as the cleaner suggests, but rather a rat. He is young, would guess four months at most. Fortunately he is quite friendly. [fortunately for the cleaner anyway].
Someone somewhere is missing him, at least I sure hope he was not thrown out so small against the world? Domestic animals are not wild animals, and do not do well in the great wide world.
Sure glad the cleaner was not the exterminator, what a lucky little hobo [would make him a great name].
------------------------------------------------------------------

|

Share your Comments (2)

with us.
Mar 23, 2009
__________________________________________________
Honey
Perhaps near Christmas I met a lovely lady, who came to me to adopt a kitten. We chatted for some time, and she decided perhaps Frisco (who I know as Frisco, also as son of Jamma, surrogate mother of Jack) would be the one she wanted to adopt. I mentioned he was an active fella, and required lots of play time. As an older woman I had a little concern, but knew she would love him regardless. There were reasons she needed something young, and I respected her opinion. Unfortunately a few weeks later Frisco came back. Sometimes inside I think "I told you so" as his reason for return was that he was quite crazy as many healthy happy kittens are, and well, he was too much for her, but I did keep it all inside. With a conversation about her finding someone more suitable in the future, she agreed to come back.
A few weeks ago she returned. Still wanting something young, but hoping for something a little quieter. This time I smiled, knowing I had Honey. Honey named for her sweetness, and her beautiful colour, I was sure was a potential match. They met and cuddled and she left to think on Honey. She returned, they cuddled and together they went home.
I received a great phone call from Honey's mom a few days after her adoption. Her words "...things are working out perfectly, thank you". When I arrived on Saturday I noticed the blonde cat arriving. I immediately checked the file, and was shocked to see that Honey had returned. Devestated to think that somehow I was wrong in matching them after promising that this cat would not let her down, I began preparing myself for the reasons of Honey's arrival, but I was not prepared for the response I received.
The very nice woman whom I had spoken with just a short time before had passed away. Honey was again alone. Sad for knowing what they had was so short. However, as they say its better to have loved and lost than to have never loved at all. Thankfully Honey was adopted Saturday and she is now a child's companion. It was only a short stay with me this time around, and I like to think perhaps her angel had something to do with it.
Our condolences to the family of Ruth Colton. Please take solace in knowing Honey is OK.
------------------------------------------------------------------

|

Share your Comments (1)

with us.
Mar 20, 2009
__________________________________________________
Dolphin Tracker
The cat is out of the bag! For the first time ever, I believe I have used this phrase to actually refer to something getting out! Fortunately, it is a good for me and my family - it was holiday time.
When we take vacation, there are those who would like to take advantage and create problems for the Shelter. We have had many problems in the past from those who bring in their cat and try to do it without a release fee or those that lose their dog that is picked-up after hours and want it back for free. The list is endless and so very unnecessary. Fortunately, the staff are very dedicated and know how to deal with problems that arise. Thank you ladies! And, my favourite part, the extra hours didn't even scare them away! OR the cranky people [who I will now deal with].
The best part, I am now an alligator holder and a dolphin tracker.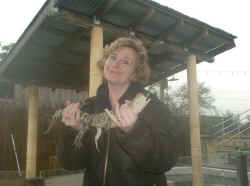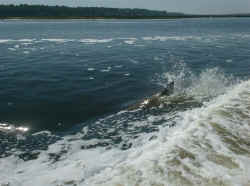 ------------------------------------------------------------------

|

Share your comments

with us.
Mar 18, 2009
__________________________________________________
Dogs and Hot Cars
I received a notice of a man in Hay River being fined for leaving his dog in his car when the temperature reached 21o C. "Hay River Man Fined $1,500 for Leaving Dog in Hot Car...>".
As the weather is warming up, it may be a good time to mention that not everyone is aware that it is dangerous to leave your dog in a car as the temperatures start to get warmer.
I am pleased the person was charged, however, the fine is never enough. Having spent time with animals who have come out of a hot vehicle, and watching the panic in their eyes and the heat come out of them, watching them fall over from the wasting and watching them struggle to survive - it is never enough. But, its a start.
It can happen by accident, people run into a store for a minute, then get distracted and that poor pup is in the heat waiting. We all know what it is like to walk into a vehicle with the windows up on a hot day.
Why dogs are in cars in the first place while we shop I will never know. It is better to leave your pup at home! He does not care about your shopping, and the car ride is not that exciting to him. He would rather walk! It is not a replacement for exercise time, and if you're only socializing with your pooch while you travel, you need to rethink something. Keep them home!
------------------------------------------------------------------

|

Share your comments

with us.
Mar 17, 2009
__________________________________________________
Luck of the Irish
Many dogs come to the Shelter named Lucky and well, I always frown on this as they are very unlucky to have that name. The lucky ones, the ones I save are lucky to be alive, but unlucky to have come to me under such circumstances.
It is all relative I suppose, lucky or unlucky. It's all how you look at it.
Let's hope luck smiles down on some of our dogs this week and finds them all homes.
------------------------------------------------------------------

|

Share your comments

with us.
Mar 16, 2009
__________________________________________________
G Wiz
G Wiz this makes me smile! Wiz, the former very large homeless deaf cat is now G Wiz the wonderful companion of another large cat.
His name here Wiz when he arrived, became G Wiz as he was so very huge. One of the biggest ever, he was tipping the scales, and filling our hearts! His size turned many people off, as they were concerned about the potential health risks. My response was in my head of course "well we will just leave him here then, that's good for his health". Of course, I kept this inside. However, they were legit concerns, as potentially he was a candidate for diabetes, and all sorts of fat cat troubles. His ability to groom himself was less than perfect, and he also left her with a Mohawk on his hiney [yes you read that right]. The odds 'stacked' [pardon the pun] against him. However, someone came looking for a companion, for their large cat to help him excercise.
This update just in ... he is wonderful! I love when they send me pics as you know, and I loved the message that came with them.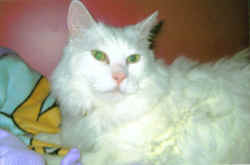 "This great boy has stolen our hearts, we love him very much" kisses Wiz good job!
------------------------------------------------------------------

|

Share your comments

with us.
Mar 13, 2009
__________________________________________________
On a Happier Note
Following Wednesday's blog, I needed a night to recover. His poor little soul still filling my head, Thursday's blog would have been all sad.

His body off to the investigators, and steps being taken to find the person(s) responsible. I am aware that the task is going to be difficult for them, and it makes me sadder.

On a happy note, the dogs that came to the Shelter via Toronto, from Montreal, altered on Wednesday, [yay] given the clean bill of health and were nearly all ready to go. Elmo, the poodle with some dental issues [here we go again??] is on antibiotics for a week, and is not yet ready to go. But Milly and Misty (deemed a Schnoodle and Schnauzer/Shih Tzu?) - two lovely little ladies - were home by 2 pm!

Misty who leaned on other dogs for comfort now has two poodle brothers in a country home. No more cage for this girl; she will be running in the yard! She will be supervised by her wonderful family who likely won't be letting her out of their arms anytime soon!

Milly who yearned to be held and loved to be spoken to [and I must say also loved my singing voice ..why??] has found herself a mom who loves to cuddle too [and must be able to sing as well as I do!] lol

So pleased to see them off to new forevers. I knew I could help them! Thank you to those who arranged to have them sent to me - thanks for trusting me. And a great big thank you to the transporters! Hope that all of you involved will celebrate too and wait for updates also with a smile on your face.

Here's hoping great forevers for Butch, Frenchie and Elmo too !
------------------------------------------------------------------

|

Share your comments

with us.
Mar 11, 2009
__________________________________________________
Do You Know This Dog?
It has been a day of great triumphs with the surgeries of eight of my friends, all successful and all ensuring that eight more will go home very soon. Already some have potentials!
We have celebrated with every one of them, promising them "one minor alteration to go home forever", and if it was not for the call that dragged the whole day down, we would still be smiling.
I must proceed with caution now as I type this, as I pray that the powers in charge of this area will be investigating, and therefore I cannot give a lot of details.
The call came today, to us, to remove the body of a deceased dog, found behind a dumpster. There is nothing more heartbreaking perhaps than to find a dog starved to death, except perhaps to know that I drive past the location every day [and possibly you too], and he was only "beyond the fence".
I will never forget these photographs or the feelings I am filled with when I look at them [ Picture 1 Picture 2 ]. So sad for this poor young male dog who barely lived, and clearly had been left to die in a cardboard box and a small dish of food. Clearly there was not enough food to sustain him.
It pains me to know that if someone had asked for help, I would have helped them, and all of this could have been prevented. What a horrible way to die, cold, alone and afraid behind a dumpster.
Rest in peace dear pup, all the best on the other side. I will never forget you. May justice be found for you.
------------------------------------------------------------------

|

Share your Comments (4)

with us.
Mar 10, 2009
__________________________________________________
Uno Update
I knew this would be the arrangement Uno would thrive in and I knew she knew everything she needed to know.
I was so relieved in the beginning to know that Uno was going to be fine, but it is hard waiting for the updates.
Little Uno, (Holly's pup) surprised us with an 'uh-no' arrival, born the one and only and then nearly eliminated by her own mother.
Uno is having a great time with a foster Min Pin mom, and siblings half her size, but still fun. Uno really had luck on her side.
I received this update today, thought you might want to see it too ... check out the great photos.
Email Update:
Hi Renee,

Uno is going for her first vaccines on Friday, along with her sisters!! She is eating Orijen puppy food ... and has a huge appetite!!

She loves to play with her sisters, and when she gets hot...she goes and lays on the kitchen floor to cool down!

She loves her "bad cuz" squeaky toy, and she loves to crawl into the cat tunnel toy to sleep.

She is submissive with her min pin sisters and lets them be the boss.

She loves cuddling on the couch....and while this is great while she is still little...

I'm not sure how well it will work when she is full grown... lol!


[I attached] .... a bunch of pics... I couldn't narrow it down... sorry!

Take care, Dawn
After this update, you can see Uno is growing up big and strong, and is loving her family, and her siblings.
Rumour has it that Uno may have a forever home in the works - and a family member too!
------------------------------------------------------------------

|

Share your Comments (2)

with us.
Mar 9, 2009
__________________________________________________
Can Anyone Help?
The emails came in to me ... the message short and sweet, "...can anyone help??" and these pics were attached ...(see below). I peered at those little souls and of course they hurt my heart. I did a head count in the back, and responded 'yes, yes, yes and yes!'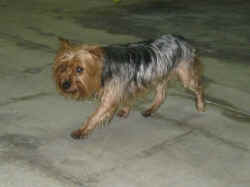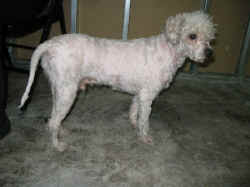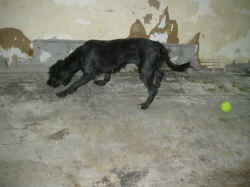 It would be impossible for me to ignore those pleas of help, having seen those faces, and knowing that I am likely their only chance. Seeing them scared, alone and unable to face the camera tore at my heart strings (good job sending the pics guys that does it every time). Thank goodness I had space.
Then came an email about another dog (see pic below). The other one, right from the SPCA. They didn't really want to send her. She was black you see and I already have some black ones. My response "Let me worry about that!" My thought was, if you're sending a car load anyhow, why not one more?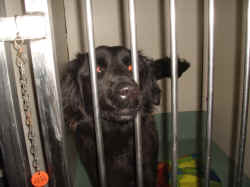 All arrived on Saturday evening and I am pleased to say that all are well. They are more social than I expected, and are willing to be held, cuddle, and so willing to accept love. These things are the most important, as I need that to work on all that other stuff!!
They will be altered on Wednesday [boy, I have a busy day ahead of me] and if all goes well, we shall get these guys looking for a home shortly. Keep your fingers crossed for a speedy recovery from their life of hell, and a quick transition into a life of love.

UPDATE: This email came today - great start to the week - great second chance for these souls...
----- Original Message -----

From: Joy Ephaim, Gerdy's Rescue and Adoptions

Sent: Monday, March 09, 2009 9:42 AM

Subject: Montreal Puppymill dogs and Retriever

Good morning All,

I cannot thank you enough for the update. I was so ridiculously worried about all these little souls and if everything went ok. I thank you so very much for extending your assistance and love across the border.

I do realize that the puppymill dogs may be a handful but with loving and confident people I am certain that they will thrive. I feel confident.

As for the retriever, she was 1 out of 30 that our rescue saved 1 day from gassing. I cannot tell you how emotional it is to remove these dogs from the horrid conditions inside the establishment. All live dogs (which they keep for one-three day) are amongst those that have perished, with the smell of decomposing bodies in the freezers, and blood on the floor. I can only tell you that these dogs had no hope. In 3 days these dogs are broken....(but they do mend once they know that they are safe - so they do know what is going on). Our rescue has done the very best to save as many as possible. Unfortunately this pound has fired all those that had us remove these dogs. They have shut the door on anyone willing to save these little ones. They rather kill them then save them - a mentality that I will never understand however the 'law' permits this.

My work here in Quebec has just started. I am fueled, disgusted and very angry about this province using this method to systematically kill dogs and cats. I will not let this go - to live with myself - I cannot and will not look the other way.

Fortunately, we have placed approximately 50% of these dogs through the assistance of 2 other rescues in Ontario.....and now OSAS. I am keeping a file on all dogs rescued from the kill pound and am gathering as much information as possible. Under normal circumstances I do not pry into rescues or anyone else who has assisted but I must ask for a very small favour. When this little retriever is adopted I would like to know if possible a photo be sent to me with her new family (or new surroundings). This will be added to my file only as I will leave it in the capable hands of the OSAS to continue monitoring her progress. I want to show the before and after pictures - to prove that this government in Quebec is allowing dogs such as her be destroyed without care, without thought, without hope.

I want to also thank my very good friend Sharon for always helping and connecting me with such wonderful, caring people. At times I question the human race only to be proven that we are strong in numbers, and there are people out there that have the same philosophy and mandate as some people here do.

Thank you to all those helping get these dogs to their destination and the safety of those that will protect them. I cannot thank you all enough for your support and commitment.

And of course a HUGE thank you to OSAS for helping so very much. I cannot tell you how much this means to myself and our rescue group for assisting and protecting these wonderful worthy souls. Without you - these little ones would have very little hope and a chance at a normal forever life filled with love and hope.

I am humbled and I thank you all so very very much.

Bless you.

Best Regards,
Joy Ephraim
Gerdy's Rescue and Adoptions
------------------------------------------------------------------

|

Share your Comments (4)

with us.
Mar 6, 2009
Belle Has Found a Home
She came to me as the "jingle bell" dashing through the snow for weeks afraid to be captured, afraid to meet me, and afraid to talk to anyone.
She was held, when she was finally brought in, as we suspected that Belle was perhaps carrying a surprise of her own, or a few, as she had all the signs of a young momma expecting. Turned out it was all confused hormones, thankfully, and it turned out Belle needed the time anyhow to make friends with all of us, and to learn people are not so bad.
When dogs run in the same neighbourhood, as she did, we can assume sometimes she was dropped there, as she has no idea where else to go. Her fear of everyone also made me assume the dropper was not so nice to her. With us she learned to walk on a leash, come when called, and to accept our love with happy feelings, and less fear. We offered her patience, and quiet and care, and she returned it with tail wags, and cuddles, and those gentle sparkling eyes I will never forget.
I was so proud of her when she went on TV with me on Monday. Although nervous, she was well behaved, and leaned on my leg for support. Today, I took my chances, and headed to radio, figuring with nothing to lose, as she was already nervous, the visit would do her some good.
Those that met her made comments about her shyness, and how sad she appeared [they should have seen her weeks ago!]. At 4 pm it was announced "Stella is going home" confused I asked who Stella was. IT was explained to me that this woman met her weeks ago, but waited to see if pups came, and heard she was available. She knew she needed a special home, and she could offer it. She then explained that Stella was a strong name, and a name of a mighty warrior. Belle, a little more delicate, needed a name change. Her adventure was beginning, with her new life, and her new family.
Stella [Belle] would be strong and brave, and her new mom was going to help her through. I did carry her into the car which was all OK with me, as it gave me a chance to kiss her goodbye. I wished her well, and asked her to trust this new woman as she had trusted me.
As they pulled out of the driveway she peeked out her window and offered me a tail wag. It was a perfect moment as she had arriving cold and afraid and was now leaving warm, loved and ready to take on the world!
------------------------------------------------------------------

|

Share your comments

with us.
Mar 5, 2009
__________________________________________________
Runner
For the last three weeks my pager has gone off before the alarm clock. These were pages in the wee hours of the morning from Saugeen shores almost so consistent, that I almost did not set the buzzer.
A black dog has been seen daily, in the same neighbourhood, in all sorts of weather at the same time of day. Concerned neighbours tried to catch him, corner him, bait him, and well. have been calling me. Daily trips to the area turned up nothing.
Yesterday ,Todd was in pursuit of this dog, and chased it for a mile and a half on foot and apparently it was freezing cold. The police were searching, the entire neighbourhood was armed with treats, and jerky, and our pager number methods of sedation were examined, alternate methods of trapping were looked into. However, our gut was telling us this was a dog let out by his owner, who likely worked the night shift, and returned home, about six am.
Persons feared walking their own dogs, as this dog would approach (but not close enough to catch him) and he was causing chaos in his community. Yes we tried using or dog too by the way. Almost at our wits end with it, and at a loss for what to do next. it all ended today.
Today, the black dog was captured! Thankfully we armed those neighbours with jerky, and this once again proved to be the treat the dog could not resist that and wieners. work every time) She gained his trust, and caught him, that neighbour who had been calling. and this time when the pager went off it was to retrieve him, not just chase him!
A great success to have him now where it is warm, and fed. I no longer worry. I do, however, wonder if there is an owner to come for him. I would like to chat with them, if they do show, and perhaps would like to connect with them before their alarm goes off !!
------------------------------------------------------------------

|

Share your comments

with us.
Mar 4, 2009
__________________________________________________
Roy is Going Home
If you could see me sitting here, you would see the biggest smile ever. In fact, since about 2 pm this afternoon that smile has been stuck on my face. I am so very pleased, and so relieved all at the same time.
On Saturday, Roy became a "free bird" so to speak. He untangled himself from his braces, and he was done with them. I must admit I felt myself holding my breath while I waited to hear how things had held together. I had prepared myself for today to be the day, and did not anticipate surprises! I had visions of his weak jaw wagging, and the inability for him to eat, or drink. When I discovered mostly I was worried for nothing, I was breathing a little easier, until today came.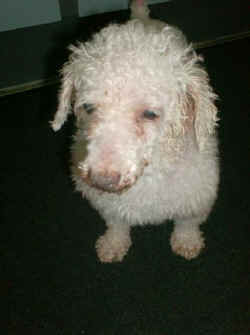 Today, was the day the doc would see him, and either give him the yay, or the nay. The nay being pretty awful news, as this would mean all our hard work was for nothing, and likely Roy's days were done. Even now thinking of ending his life, my stomach turns. BUT ... we got a 'Yay'. And that 'yay' soon became HOORAY, as his mom agreed to come for him.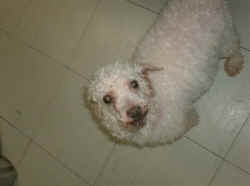 Let me tell you, all by the way, this was the best possible home for him too, as this woman, is my hero, and her family, is as compassionate as my own. I bathed him, and cleaned his ears, and washed his face for the last time, I dried him, and I held him and quietly said my goodbyes. There were many times in the last while we questioned saving him. The ups and downs sometimes brought confusion, and concern. However, deep down I knew (I hoped) he would be all OK, and today it is better than OK. It is the best actually.
Roy has gone home, now, in his new travel cage, wearing his new leash, his new collar, to his new family. Likely he will be on the couch tonight, and I am sure he will be all OK with that. Updates to come.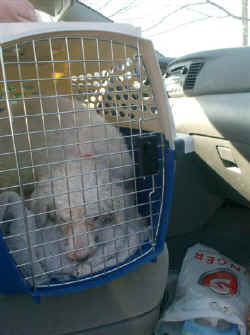 Enjoy your second chance Roy, you fought hard for it, and deserve every minute of it. No more eating bleach for you, or living in your waste. Instead, you are off to being treated as royalty.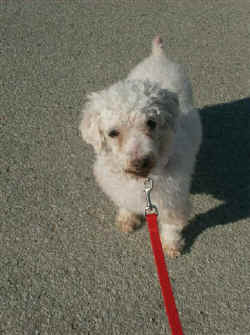 Thank you to all of you who sent donations to help cover his care and thank you for all of your warm wishes and prayers, we did it :)
------------------------------------------------------------------

|

Share your Comments (2)

with us.
---
"Eve came in for a visit! All is well, life is great
and she is very happy"
---
Mar 3, 2009
__________________________________________________
Council bats down cat limit
Posted By DENIS LANGLOIS, SUN TIMES STAFF
Posted 14 hours ago
In a surprise move Monday night, city council rejected a bylaw to restrict the number of cats per household to three.
About a dozen cat lovers cheered after Mayor Ruth Lovell Stanners broke a 4-4 tie to vote down the bylaw.
Sylvia Moss, an outspoken critic of the bylaw, appeared elated after the vote, heralding a victory for felines.
"I've always said if you believe in something, say so," she said in an interview. "I'm very, very pleased."
Council voted 5-4 on Feb. 9 to approve a three-cat limit for Owen Sound homes. Procedure requires six affirmative votes to etch a bylaw into the books on the night a motion is introduced.
Coun. John Christie flipped his vote Monday to defeat the bylaw, which required only a simple majority for its third and final reading.
Councillors David Adair, Deb Haswell and Arlene Wright also voted against the bylaw.
The city currently has a bylaw in place that requires Owen Sound residents to purchase a one-time registration tag for each cat. It also bans people from letting their cats run outside without a leash.
Critics have said the bylaw is unenforceable, unnecessary -- because of the current roaming ban -- and will mean more stray cats in the city.
Moss said she hopes to make a presentation to the city requesting a bylaw to set a "standard of care for pets."
She said she would also like all feral cats in Owen Sound to be spayed or neutered and then released.
------------------------------------------------------------------

|

Share your Comments (1)

with us.
Mar 2, 2009
__________________________________________________
Emily Communicator - Fundraiser
Our difficult job of picking up the pieces and putting them back together, rescuing the homeless, and offering a new leash on life is a challenging task.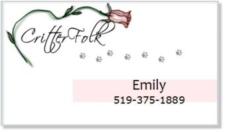 Emotionally it is exhausting, mentally it is challenging, and every ounce of our being is often working hard at finding success.
Emily, a "communicator" on many levels with people and animals, has offered tips, suggestions, and details to help us through. She provides history when we have none, and a glance at the future when we are loosing hope.
She has offered direction, support, compassion and solace.
It is always a pleasure to be offered encouragement, and I have taken delight in her warm spiritual hugs.
On April 5th, our anniversary weekend (yay for ten years) we are offering a special opportunity at Grey Sauble Conservation Authority, with Emily who will be working as a Medium for us that day. She is able to connect with and answer questions from pets who have passed on (i.e., have died). Emily offers solace and compassion for those of us who are seeking comfort - or sometimes even a final closure - with regards to their deceased pet. Emily will need a picture of the pet, to make this happen.
Tara, 'Animal Communicator', who is "able to connect with pets and share answers to questions their owners may wonder about, will also be on hand. From being able to find out why a pet doesn't like a certain treat, to discovering the underlying reason as to why Fido only barks at Aunt Bertha are all within Tara's ability. Have your questions ready!" your pet will need to be present for this.
Each reading will be 25.00 and will be offered to a limited group, as these ladies can't go on for ever and ever, so please contact me if you're interested, I will be creating a list.
I have had readings for my past friends, and let me tell you there is little as comforting than to know your best friend is all ok without you. I encourage everyone to visit with us on this day, and Emily, and Tara, and whomever else may visit (lol)
------------------------------------------------------------------

|

Share your comments

with us.

The views expressed in these blogs are the personal views and daily events as told by Renee Robins, and the views expressed don't necessarily reflect those of the City of Owen Sound, unless relating to City By-Laws and Ordinances.

2000-2009 © Owen Sound Animal Shelter. All rights reserved.
Web site and blog created, updated and maintained by Elaine Watson