OSAS
by: Renee Robins
------------------------------------------------------------------

Recent Posts
-------------------
Aug 31, 2007
_________________________________________________
Dilemma;
Painting;
Side Order of Iggles Please;
Homeless and Stray ;
Dr. Gadd ;
Mix ;
Breather;
Back on Track;
Shelter Angels;
Missing Cats;
AnyBunny Need a...;
He Was Left Behind;
First Aid Presentation;
Going Home;
JRT's;
Bedtime Story;
Spunky;
Can You Smell That Smell?;
September;
Dizzy;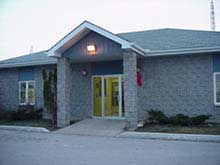 Archives
-------------------
Jul '07 Blog;
Jun '07 Blog;
May '07 Blog;
Apr '07 Blog;
Mar '07 Blog;
Feb '07 Blog;
Jan '07 Blog;
Dec '06 Blog;
Nov '06 Blog;
Oct '06 Blog;
Sep '06 Blog;
Aug '06 Blog;
Jul '06 Blog
Jun '06 Blog;
May '06 Blog;
Apr '06 Blog;
Mar '06 Blog;
Feb '06 Blog

email your comments to:
owensoundanimalshelter@inmail24.com

Success Story:
- They made it... read Renee's blog;
- Read Todd's Interview;
- Little dog pulled
from icy water;

Keep up-to-date
with our schedule.
Dizzy
Well I was not going to do it. I was not going to blog Friday as I was dealing with some not-so-smart people who were ripping the Shelter off. They had some sad story about an animal not wanted and then there was the turtle ... Dizzy.
I am not certain where a turtle sits on the Shelter list of keep or no keep Rules - as it is wild, so I was going to skip telling you - just in case. However, if I am in trouble for saving a dying turtle, well, so be it.
A painter turtle I recognized from my youth that I consider friendly as well as being able to hold them - just a nice little critter. I have had my share of rescuing them and have possibly stopped a million times on the road to help them cross to the other side. Well, today, I met another. This one clearly did not make it across and clearly needed some assistance.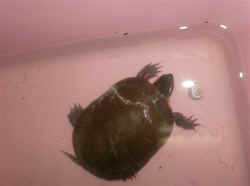 Found upside down and unable to turn over, this poor girl (we think) would have definitely perished upside down and in the sun. Her shell was cracked and split, as well as having internal bleeding - and the greatest trouble apparently from paralysis of one front and one hind leg. Oddly, on opposite sides.
So, we did what we do best and made some repairs, patching the cracks and keeping her still, even offering food and watching her eat. We named her dizzy (cause you know one good leg on each side, you just keep doing circles ... funny, but true).
Now we wait to see how things progress, after all, what happens to a paralyzed turtle - if they sink they drown and can they eat if not in the water? I have some finding out to do.
Let's hope she is not removed from me before we can do all we can to help her.
----------------------------------------------------------------

|

Share your comments

with us.
Aug 30, 2007
_________________________________________________
September
It's almost time. Time for most of us to send our children back to school, get those routines back in our lives and change things all around.
If you are one of those who now find yourself with a newly acquired pet from this summer, my advice is to practice now! Too many pets are surrendered mid-September, October, for behaviour issues simply because they had a change in schedule, people were not prepared, things got out of hand and out of control way too fast.
If you have spent all summer hanging out with the dog and relaxing with the cat it is now time to start to wean them to the fact that life is about to change. It is never too late. Start them off slowly, go shopping, go for a walk without them and start to disappear. Think of your four-legged family member who now will potentially have the house empty out in a few short days. Buy them some great treats to occupy their time, plan ahead, prepare for some upset, and take it slow. Your friend will be one less stress for you to worry about, and will be happier because of it.
If some troubles start, please don't hesitate to ask for help - email me. Finding them homes is half the battle, the other half is helping them stay happy and safe right where they are.
----------------------------------------------------------------

|

Share your Comments (1)

with us.
Aug 29, 2007
_________________________________________________
Can You Smell That Smell?
The door knocking was driving me nutty, and I was just going to ignore it, but it was beginning to grate on my nerves.
The dogs bark every time the door is tapped, and well, they were already so excited as it was feeding time, walk time and get really excited time. Todd uses ear protection, he would not have heard the door, but I heard it, and all the barks that followed.
I peeked out the window (we have a spy hole) and noticed it was the City Public Works Department. As happens from time to time, boxes of things are left at the landfill, or things swept up with the trash that need to be disposed of, which require the Shelter's assistance (deceased squirrels often or birds). I was going to ignore him, as we don't open until 1 pm, and the door banging honestly is a big pet peeve (pardon the pun) BUT there was a chance he needed me or was here to help me, so I opened the door. A big mistake! As soon as the outside air came inside, I knew why he was there. SKUNK! There is nothing worse than the smell of something that has passed, and left for a while, than perhaps a deceased skunk!
He thought he would do me the favour, and deliver it to me ... little does he know, I would have sent Todd. It is then my job to bag it, tag it and place it in the freezer (sad but true). And a little known fact about skunk spray ... it sticks ... it is 'lotionish' and it gets into and onto everything and sticks really well.
So, for the rest of the day I smelled of skunk. Sorry Wal-Mart people and the nice lady at Georgian college ... next time I am not going to open the door.
----------------------------------------------------------------

|

Share your comments

with us.
Aug 28, 2007
_________________________________________________
Spunky
A few months ago, an injured fella was surrendered to me. Not as a stray as they normally appear in this case, but rather as a release from an owner who was not taking him home.
This cat she called Spunky, had been an indoor only cat, was vaccinated, and had an appointment for the vet for his neuter. A few days prior to his big snip day, Spunky slipped outside and his first chance in the great outdoors did not end up well for him, and Spunky injured his hind leg.
I stood in shock as she told me the reasons she was surrendering him, as he was now dirty he could not come back into the home. I told her I did not feel it was fair that I should get stuck with the vet bills, and I noted that none of this mattered to her. She even took her change when she paid the surrender fee! Of course, we could not leave him stranded for fear she would simply dump him on the way home. I looked into his eyes and I couldn't refuse him. I now found myself angered and resentful toward this women, but as I have been wont to do, now could not let him go off to a gloomy and fearful future. I am now thankful that he has been placed in my care.
I also think that he was given a second chance and I'm thankful he will find a home that loves him regardless of how "dirty" he could possibly be.
Today, he was officially placed up for adoption as he is now mended, neutered and totally ready to go. With thoughts of his future happy tail in mind today, he and I are both anticipating his adoption.
----------------------------------------------------------------

|

Share your Comments (1)

with us.
Aug 27, 2007
_________________________________________________
Bedtime Story
It was months of picking up the pieces, literally. Scarface, the cat named for the lack of a face when he came to us, the hours of treatment, repair and the time intensive wait for it to all grow back in.
It was your donations that saved his life, as it was only surgery that helped his face/neck skin regrowth, and even with surgery he still had miles to go. I fell in love with his warm and giving heart, and when his gentle manner shone through we all fought with him to be sure he would have the life he deserved to have.
It was hard to see him go to his forever home when he was not entirely perfect and still needed care, but his new home assured me they could take it from here, and promised to stay in touch.
I just read an update from Scar's family about how he gets tucked into bed and is read his bedtime story by his littlest 'fan'. I had tears in my eyes ... my boy has all I hoped he would.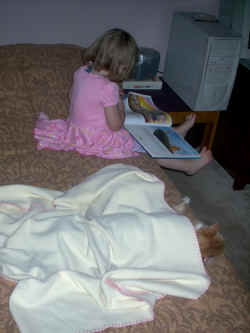 Thank you for reminding me why we fight these battles.
----------------------------------------------------------------

|

Share your Comments (4)

with us.
Aug 24, 2007
_________________________________________________
JRT's
Jack Russell lovers are going to love this one! My day went like this, feed, water, walk and prepare for radio. Grab little George, take him for a pee - which he did a very long one - then load him into the truck.
So small, hey he can ride up front with me. We start driving, Mr. Jack Russell (George) with his feet on the window, peering very intently at the world moving by. He tries to chase the moving trees, and then the cars as they pass, it is going not so well, so I pet him, and talk soothing words to him. Up he jumps onto my lap, now trying to drive the car. We proceed this way until we reach our destiny, and it is jump, jump, jump out of the door, and run full speed to the Mix Station. Inside it is run from person to person so excited to see them all, then run up the stairs to see who else there is to meet.
In the tiny room he does exactly what a Jack Russell wants to do, he tries to jump up on the chairs, on the control keys and up onto Bob's lap. Seeing Bob was not so amused, I call Mr. Jack Russell over, and he perches on my lap, again in the driving seat. George begins licking my ears, again as all Jacks love to do, and when we begin to speak, it got much worse, George licks my nose, and tries to get his tongue in my mouth, my ears - boy what a tricky way to do the show. Then we are off again, and running after having made our debut. Phew, this time he rides with his leash tied, and rides well - thankfully - back to the Shelter where we hang out, and then wait, for a JRT lover to call.
Just like a Jack - all business and no fun! lol
----------------------------------------------------------------

|

Share your comments

with us.
Aug 23, 2007
_________________________________________________
Going Home
There were smiles on everyone's faces as she was placed into the car. The seat covered with a new doggie blanket, and supplies surrounded her. She sported her new bling, and drank from the new bowl carefully placed on the floor. All preparations were complete, and the adoption could not be more perfect. When Chrissy still needed care, and looked less than perfect, there was one family who still was interested, asked about her and had fallen in love with her.
There was a surgery that needed to be done, and it was not just Chrissy - once the health of this great dog and her master was perfect, she could finally join her new family (there go those angels again).
They have spent time together, as the weeks have gone by, and today it was made official - they became family. A family who had always had dogs until recently, who needed to be ready for the next one and chose the one that needed it most.
Tomorrow our fighter Scarface, may be going to his forever home as well. What perfect timing for them both. Here's hoping for the best for both.
----------------------------------------------------------------

|

Share your Comments (1)

with us.
Aug 22, 2007
_________________________________________________
First Aid Presentation
Is today the 22nd?? Well, the countdown is on! With one month to go before the best animal First Aid Presentation ever - I am beginning to get excited. Dr. Kathryn Gadd has graciously agreed to donate her time and provide everyone with the knowledge of what to do in an emergency, what to do while waiting for the vet to arrive, and handy tips on animal care. Tomorrow she may send me her outline, and we can start the promotion entirely.
This presentation will be in support of the Owen Sound Animal Shelter, with a twist! We will be working in conjunction with another animal rescue group - ANML RESQ.
The seminar will be held at the Harrison Park Lodge, from 11-2. Coffee and refreshments to be provided, and a BBQ lunch too! There will be draws and raffles and so much fun too! Topics will include:
Trauma: cuts, wounds, bleeding, fractures, unconsciousness

Poisoning: chemicals, plants, chocolate

Respiratory emergencies

Eye emergencies

Skin, ear and nail problems

Digestive Upsets

Urinary Problems

Pain Management

Reproductive Emergencies

Seizures

Restraint and travel with a traumatized pet

The seminar will combine traditional and holistic treatments for emergencies and ailments.
When you attend this course, which costs $25.00 a person, you will receive a first aid kit and manual along with a certificate of attendance.
If you think you will be attending, could you drop me an email on how many will be coming with you.
----------------------------------------------------------------

|

Share your Comments (1)

with us.
Aug 21, 2007
_________________________________________________
He Was Left Behind
All parts are crossed, the Shelter Angels have been summoned, and old Merc is in my thoughts. He went home today, finally after weeks which were like months to him; who was a stressed out senior. I pray that this wonderful home gives him the time to adjust to his new surroundings.
He was found by new home owners, left abandoned in the barn. Unable to leave him, with no one to care for him, they gathered him, named him, and surrendered him to me. Clearly, alone for a while, he cowered in the back of the cage, and did not present himself to those that came looking for a new addition. With his age against him, he was passed up time and time again. Pet Valu offered us a chance to display him, and I jumped at the chance, knowing how well the others had done there. Surely, being out of the cage he would relax? This proved not to be the case.
A few weeks, and no cat to be seen, Merc scurried away to hide behind the boxes. Coming back to me, at least there was some familiar territory now, and the comfort of his own space, peace and quiet. I was beginning to think perhaps he would need to find his way back, and I wondered if it was possible to send him there, if there would be someone to care for him, but without knowing, I could not be responsible for that.
Finally, today, wonderful people who had recently adopted a cat, we loved as "Honey", came to find her a friend (Merc does love other cats). They choose him as he needed them most.
Here's hoping it works out, and they give him a chance. Hoping the best for you pal.
----------------------------------------------------------------

|

Share your comments

with us.
Aug 20, 2007
_________________________________________________
Any Bunny need a rabbit?
It happened like this... "Renee, can you help with the rabbits, we have six and I have a foster for one, but the other five have to go" I say, "five ... wow that is a lot of bunnies, are you sure you can't place them?" So my mind begins to think, poor bunnies, no room at the Inn (literally, Kennel Inn) ... they can't get a home, they will pass away, for no reason other than they turned up homeless in the wrong place at the wrong time.
OK, so I think, how hard can five bunnies possibly be to place? How much work could that be? I was hoping the 'iggles' would move, as they are taking up a double cage, however, it is not time for them yet, so that leaves me doubling them up. Well, rabbits are not so compatible. boys and girls are, and then five becomes twenty five, but same sex are not friendly with each other, so we need to split them up.
It took some careful consideration, planning and shuffling, but we managed. It was space that was really my only concern. They needed names, and the first two became Magic and Thumper (for reasons I really can't disclose) and the other two, they were well - buggy - the fleas that covered them, which were quickly removed thanks to the flea bath they have now been given and they were appropriately named Itchy and Scratchy.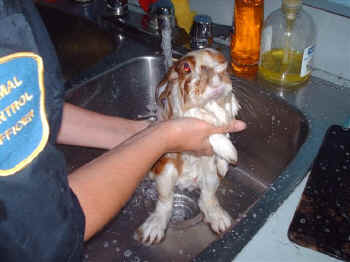 That was how I felt for the remainder of the day. If the last two had only been one rabbit, you know I would have definitely named it Bugs!
So, the final girl, was simply Etcetera. So, now with all this 'A-BUN-DANCE' ... I do hope there will be a few people looking to adopt during this bunny run! :)
----------------------------------------------------------------

|

Share your comments

with us.
Aug 17, 2007
_________________________________________________
Missing Cats
The article in Wednesday's Shoreline Beacon, the local paper for Saugeen Shores reads: "Cats are disappearing - Are you missing your cat? Then contact the Saugeen Shores Police Department." "Police Chief Dan Rivett said there have been three cats missing from the Parkwood Drive and Lord Elgin Place part of Port Elgin over the last month ... we need to get a closer look at this, said Rivett. Other cats may have gone missing, we need to find out why."
This came to my attention today, a few days late, but we spoke to the Police at the Saugeen Shores Police Department the day before. My message to them, was the same as it is to the people who might be missing their cats: please call the Southampton Pet Hospital. It is possible that we have picked those missing cats up, as we now do the Saugeen Shores contract, and have, for a month.
Saugeen Shores has a Cat By-Law, and if there is a complaint, potentially your cat was picked up. Apparently no one thought of this! When we have a job to do, well, it gets done, and if you have lost or are missing your cat, please call the Southampton Pet Hospital with a description - they may have your cat.
There are now fears of coyotes, but before we jump to conclusions, let's assume it was your animal control personnel now doing their job.
Either way, you should keep an eye on your pets, without that, they will go missing.
----------------------------------------------------------------

|

Share your comments

with us.
Aug 16, 2007
_________________________________________________
Shelter Angels
Yesterday, I met a friend from the past. A women who adopted a special Shih Tzu a few years back. She fought back the tears as she spoke and told me of a sad tale of how she had lost this girl in a terrible accident over the weekend. I remembered her prior pet and knew a new dog would have great shoes to fill. Her request was a big one, to please find another like the other, if possible with similar heritage. I was disappointed knowing that it was unlikely that a match would come anytime soon, but instead assured her I would do what I could to find the right fit.
It was impossible for me to track where her dog had originated, but knowing her temperament, and her appearance I would certainly do my best. Hours later, surrendered to me was a very similar Shih Tzu one with special requirements as well, who needed a quiet and no children home. I was excited knowing they were so similar and prayed a match was possible. Minutes after his official release I phoned her with the good news. I did not hear from her, and assumed perhaps it was too soon, and that this poor fella would wait until another home came for him.
Today, the Shelter angels were with us again, and she was waiting at the door at noon, and I could not wait to get inside. There were tears in her eyes once again, but this time tears of happiness when she saw her new treasure. When she thanked me I knew that it was from the bottom of her heart, and tonight she would not be home alone. The thanks for me was appreciated, but the work done was not by me it was those Shelter angels who did their magic and sometimes I just have to sit back and let it all happen.
----------------------------------------------------------------

|

Share your Comments (1)

with us.
Aug 15, 2007
_________________________________________________
Back on Track
One day back and I start the day with a day care visit! Yes that was quite busy, but I knew we could keep things running smoothly and it worked out just fine.
The toddlers all under five made their very busy appearance just after 10 am and certainly got me hopping. No more holiday-mode for me. It worked out very well that we had so many small animals, and the iggles and honey bunny were gently squeezed, petted and kissed. The Shelter was filled with laughter, and the excitement of the animals and the kids. A nice start to my day back.
Five happy tails messages soon followed, and the adoption of sweet Ellie. Crossing my fingers for you girl. You go girl!
It is great to be home and doing what we love best, bringing smiles to the faces of people and the homeless pets.
----------------------------------------------------------------

|

Share your comments

with us.
Aug 14, 2007
_________________________________________________
Breather
I'm baaaaaaaack! Did you notice I was missing? Did you miss the blogs? Todd and I snuck away for a much needed head-clearing few days. We disappeared to trees, rocks, water and few people. Oddly, the only animals we have seen in the last little while are those we are trying to avoid, wild ones like Bears!
Although, we did miss the Shelter terribly, the girls did an awesome job keeping up, and as I understand there were a few difficult people, a few tricky situations and even a car chase we missed... (all in a days' work?). However, we stayed well informed, always on the other end of the phone and never out-of-reach. Unfortunately, or fortunately the middle of nowhere does not give me access to a computer, so I will be catching up with that end of things.
I believe there are 76 emails waiting for me. So, if you are one of those people waiting, I am on it, and you will hear from me ASAP. I will be getting back on track, and my blogs will continue.
Hopefully, my holiday head will be gone quickly and everything will return to normal and you know it will be well worth the wait.
----------------------------------------------------------------

|

Share your Comments (2)

with us.
Aug 9, 2007
_________________________________________________
Mix
Tomorrow, a little something different for the Morning Zoo with Robin. Same time, same place and with a homeless friend, well actually three ... the 'iggles', but with one thing missing, and that one thing is me.
I have another commitment and cannot make the show, but as they say in showbiz - the show must go on. Those 'iggles' need to have their debut and find a new home.
We love'em, but would love to see them on their way. Thankfully, Candice loves to entertain and knows everything there is to know about these three squeakers, who may actually do all the talking! Let's hope their cute purrs and squeaks melt the hearts of the listeners who are looking for 'iggles'.
----------------------------------------------------------------

|

Share your comments

with us.
Aug 8, 2007
_________________________________________________
Dr. Gadd
Dakota has been on hold, and although she has not really been available with healing to do from her injury to her shoulder and her uncertainty with her eyesight, we have been keeping her unavailable due to the possibility she was expecting.
Displeased with the possibility of more homeless dogs in the world, fears were heightened with thoughts of these puppies potentially having the same eyesight problems mom has inherited. With only an expected few weeks to go, this poor girl has been with us almost an entire gestation period and we were waiting rather impatiently for what would happen.
Dr. Gadd has already spent time with Dakota with regard to her eyes and she very kindly offered to meet with us today and bring an ultrasound machine to find out one way or the other what was up with Dakota.
It was a bit of a challenge holding this busy girl so very still, but we managed and the results were very clear. Dakota so full of surprises was not so full of puppies. Her pregnancy was false. We are all relieved, and so very grateful, as Dr. Gadd provided this service for free (we owe you Dr. Gadd, your the best!!). So now our efforts with Dakota can go toward finding her a home.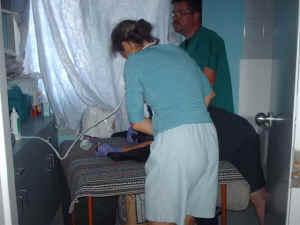 It is important she goes soon, as she needs to familiarize herself with her surroundings in the event the rest of her eyesight leaves. She will function perfectly with a few limitations, training and TLC and this girl will go so far. I have confidence in her, and know she can do it. (Potentials, please ask about the training that is involved, I will direct you).
Dr. Gadd wanted to check on her friend too and Scarface's examine showed he was healing well, and will be good to go some time soon.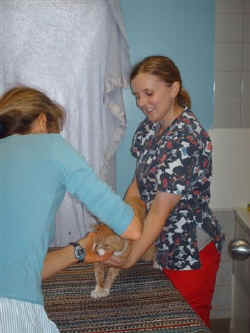 ----------------------------------------------------------------

|

Share your comments

with us.
Aug 7, 2007
_________________________________________________
Homeless and Stray
It is time for our next fundraiser. I was going to do it last Thursday, then Friday, but both days had more important issues. Today, it is a priority for our homeless and stray.
Most times, the stray or homeless don't always come in clean, healthy or ready to go. Actually, more often than not, they come in quite the opposite. Just about all of those one thousand animals each year require some form of care, beyond food, love and shelter - this is why we fundraise.
We are very very grateful for each and every donation as these monies are used to save lives, and each and every person who donates should take pride in helping us do what we do. It is an ongoing battle to keep the funding high so it is there when we need it the most. As we use a large chunk of the monies to the animals altered so that they can be adopted. We have never let cost be a factor in helping those that need us, and it is hoped we can continue on like this forever. We had a bulb fundraiser which was a great success and I decided that with fall fast approaching (sad but true) many of you would like to have us offer it again. Don't forget to take an order form and ask your friends and co-workers if they are interested.
As an added incentive, Todd and I are going to give the person who sells the most bulbs a $50.00 gift coupon for Pet Valu and the runner up will get 2 passes to a movie at Galaxy theatre.
Please stop in and pick up a form or email me (osas@bmts.com) and I will send a form to you.
----------------------------------------------------------------

|

Share your comments

with us.
Aug 3, 2007
_________________________________________________
Side Order of Iggles Please
So I've got one large order of Zeeby (German Shepherd), two small orders of poodles (Miki and Chico) and three small side order of Iggles (Guinea Pigs - Jiggles, Wiggles and Giggles) and don't forget an extra order of Sookie (the Husky) to go! We make light of it, and we laugh as we arrange our order of pets to go - those that will come tomorrow via special delivery from Kennel Inn - Aurora to Owen Sound.
I am happy to be giving them all a second chance at life - I can see the light for them at the end of the long tunnel up here. It is not all fun and games as the decision is a hard one - who comes and will stay - it is always a gamble and touches me deeply regardless.
To work with another group and be trusted to help them rescue animals - I take this partnership very seriously and am honoured to be able to help them. Some places consider us "competition" and don't network and do it all on there own. But, when space is available - why not take us up on our offer to help those pets that will not see another day? Thankfully, Kennel Inn, Animal Control in Aurora has faith in us. I await my new friends with hope, knowing what we can do.
On another note, Chip was transported to me today too! Chip who was the dog I carried off the golf course (I told you he was big) who was not reclaimed and who would have died if not for our new contract. This is the reason we have it - another soul saved.
----------------------------------------------------------------

|

Share your comments

with us.
Aug 2, 2007
_________________________________________________
Painting
When life gives you lemons you make lemonade, when mother nature gives you hot hot temperatures, you paint? Really, it works well.
Today, noticing I had fewer dogs, more room to shuffle, dog runs that needed freshening, and warm drying air I took a moment to paint and managed five runs! I was impressed with myself - even more impressive was that it worked as planned, and was dry in no time at all. I was thinking I might do the rest tomorrow if the rain holds off.
The dogs enjoyed the extra company, and we chatted while I worked around them. We had great conversations with me in the space next door. It reminded me of my night behind bars, except for the sun shining and my fears about the unknown gone. There was relief in knowing that my friends are all comfortable with those new runs and fresh air. My stress was sure lessoned as I felt I was painting in the great outdoors, without the hot temperatures of being outside!
----------------------------------------------------------------

|

Share your comments

with us.
Aug 1, 2007
_________________________________________________
Dilemma
I was having a moral dilemma - what to do - what was right - as I saw him tied there.
It was a strange and unusual sight, this big husky tied tightly to a riding lawnmower. The lawnmower delicately parked in front of the Southampton Hospital. It was clearly not right this heavily coated dog, sitting out in the hot sun, cooking, and nothing to drink. I needed to do something. It was against the by-laws for him to be tied this way, and against all that was right to leave him out on such a hot day. I felt horrid for the person who could be injured, or in some state of urgent care, and removing his dog was perhaps not what was best for him.
I debated it for a moment and called Todd for advice, and decided what was best was to go inside. I hoped an owner would give consent to remove the dog from his discomfort. It was a possibility he was part of the yard work for all I knew (lawn worker's dog?). When no owner came forward, I was sure I would be taking him. Luckily, I was spared from the guilt that might involve, when I returned a short time later, an elderly man was already there. I still do not know why or how they came to be parked in the hospital lot, but I do know I gave him quite the scare with threats of charges and taking that dog in the future.
I will keep an eye out, but I am sure it will be the last I see of this ... oddly though I suspect I will see these two again, but likely not in this location.
----------------------------------------------------------------
Aug 1, 2007 | Share your comments

with us.
2000-2009 © Owen Sound Animal Shelter. All rights reserved.