---
The parade has put us in the Christmas Spirit and it has kicked off our Christmas fundraising season. Keep an eye on the page for great gift ideas for people and pets. Orders now being taken for our Christmas Stuffed Socks, or pop in and pick up while available.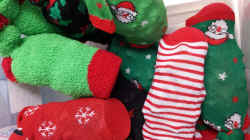 Only 3.00 each..purrfect for the dogs and cats on your list.
---
A donation has been made from Gwen and Fred in loving memory of Frank Vogelson.
---
SallyAnn Longfellow the Minister at Meaford United Church will be holding a blessing of the animals service May 15 along with Rogation Sunday (the blessing of the seed and soil for farmers). We would like to encourage those attending to support the shelter. The service starts at 10:30 all animals are welcome. We are also encouraging folks to bring pictures of their animals that have passed away so we can remember them.
---
New Year, new tag needed
City of Owen Sound, pets are to be licensed in accordance with By-law No. 2011-155 and By-law No. 2011-156. These By-laws require dogs to be licensed annually and cats once for their lifetime.
Dog tags are being sold at a discount price before March 31, 2016 of 20.00 for fixed dogs, and 35.00 for non fixed. The price will go up to 30.00 and 45.00 after that date.
Cat tags are 30.00 for fixed and 45.00 for non fixed.
Tags may be obtained at the Owen Sound Animal Shelter located at 2125 18th Avenue East, or at City Hall, 808 2nd Ave East, Owen Sound.